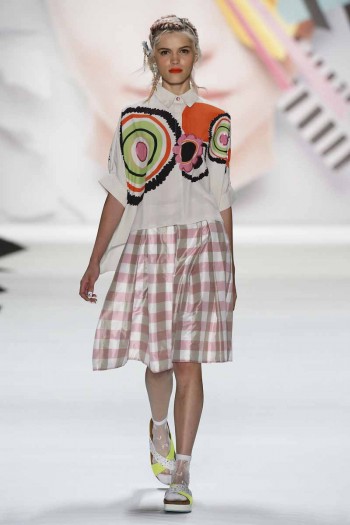 Always celebrating women, the Desigual Spring 2016 collection was inspired by its home city of Barcelona and encapsulated the city's vibrancy into free-spirited, bold and fun looks that are endlessly alluring.
With the theme, "ever-changing face of a woman", Desigual collaborated with stylist Misha Janette and Barcelona artist Lauro Samblas to create cosmopolitan and urban silhouettes that featured layered looks and unusual combinations.
Shirts worn as skirts, hand painted brush stroke prints on oversize blouses, jumpers worn as turbans, A-line midi-skirts with patchwork embroidery, jackets that combine denim, military fabric and embroidery, palazzo pants and ankle grazers, embellished jeans with delicate embroidery and long shirts worn as evening dresses.
Photos courtesy of Desigual