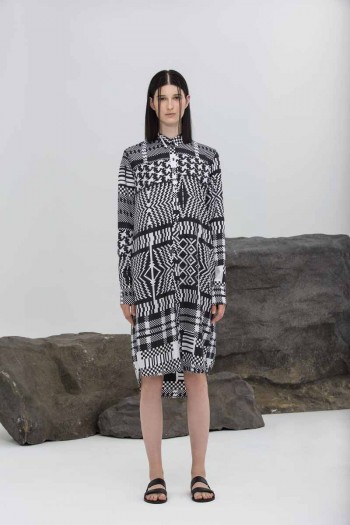 Another great discovery for us this season is Japanese designer Rie Yamagata who designs under the label Rhie which she launched in 2011 as a small knitwear capsule collection.
That was four years ago and Rhie had become a fashionista favorite when they want something unique, easy to wear and of course, it goes without saying – fashionable.
For Rhie Spring 2016, Yamagata infused a lot of the Southwest in her collection. The original black and white print that is so reminiscent of Santa Fe and the short-cropped jacket that reminds you of the cowboy duster.
Still, what makes the collection stand out is the clever marriage of craft and artisanal techniques. It gave the collection the raw edge yet it projected a refined look.
With a collection like this, it is easy to predict that die-hard fashionistas will pick it up once it reaches the store shelves.
Photos by Akira Yamada, courtesy of Rhie