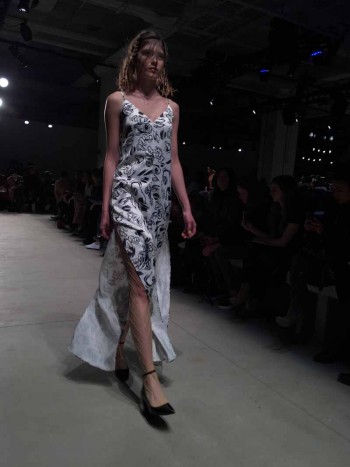 NO — we are not talking about the AMC television series. YES — we are talking about Kathleen Kye's Fall/Winter 2016 collection.
"I feel that the zombies are metaphor of people nowadays who are lacking human fundamentals and only filled with desire and instincts. As I lately find myself living hectic life with void and lost intentions, I fear to find myself to turn out as one of the zombies" and surely this is NOT the case because when we say this collection brought the dead back to life, we mean it.
This season KYE took it back to basics — Old Skool style. With heavily influenced 90's feel seen throughout the collection, she includes reinvented silhouettes and mixed them with unexpected color palettes, fabrics and textures; creating well executed juxtapositions. Also, let's not forget to give an honorable mention to the added detail with the stockings that made us feel some type of way. Bravo Kathleen Kye, you've brought us back to life this season!
[KRISTINA FE]