It's the dog days of summer and the ocean beckons. With the fashion season in between shows, expect fashionistas to become sun worshippers. With the beach as the new catwalk, here are a few must-have items that will keep you smiling.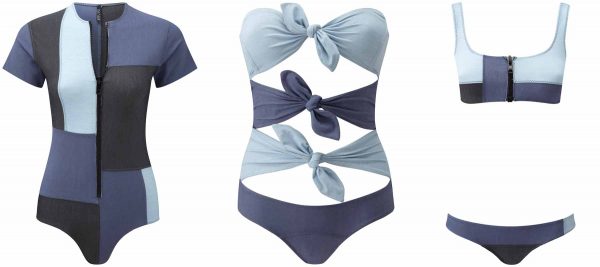 SWIMWEAR
Denim is no longer just for jeans. Designer Lisa Marie Fernandez has developed a new innovation in swimwear – DENIM STYLES, which are completely swimmable, range in color from a deep indigo to a more faded denim. Each style, whether it may be the fun, Triple Poppy Maillot or the more simple, body-flattering, Jasmine Maillot, is perfect for all women ready to hit the beach and the pool!

SUNGLASSES
For the first time, eyebobs introduces lightweight nylon reading glasses that can be worn on their own or with a handy, magnetic sunglass clip. The magnetic clip features polarized sun lenses for 100% UV protection and reduced glare. This combo is ideal for all indoor and outdoor reading. Above: "Happy Clamper" ($79) available at eyebobs.com.
eyebobs also offers "Happy Clamper" as a sunglass set, which includes three additional magnetic clips, including two with a mirrored finish. "Happy Clamper" set ($150) available at eyebobs.com. Happy Clamping!

SANDALS
Launched this summer, Mythologia is a collection of chic, simple sandals made by hand on the island of Crete by Greek artisans who have been perfecting sandal-making techniques for generations. Made with vegetable-tanned leathers, a process that not only respects the environment but also preserves the leather's uniqueness and natural characteristics, the sandals age beautifully, getting better over time.
The new collection, founded by Greek-Americans Eva Karamveris and her husband Hercules Mousiades, is inspired by Greece's history, culture, art and architecture, as well as the country's dynamic landscape and exquisite colors. Retail prices range from $170 to $335 depending on both the style and the sole.