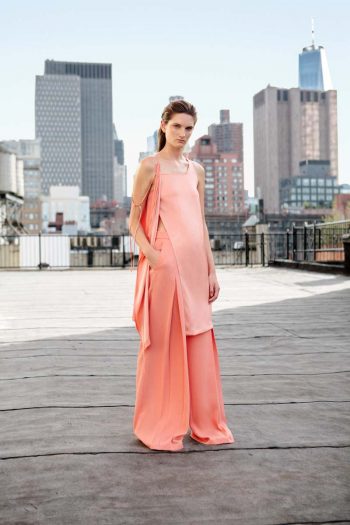 Inspired by the works of Kristian Schuller, ICB SPRING/SUMMER 2017 expresses the flow of air and energy through urban skyscrapers and embodies the spirit of the ICB Girl – a strong city girl at heart, whose curiosity compels her to explore new worlds and broaden her horizons.
Transporting from her typical stomping grounds, her explorations lead her to a harsh yet beautiful desert. With less boundaries, and a capability of "flying" like the breeze, not only does the world become smaller, it lends an opportunity for her to expand her mind and become one with the universe.
Equipped to survive, her clothing features utilitarian details such as adjustable straps and strings, D-ring fasteners, heavy topstitching, and patch pockets. Voluminous, parachute like silhouettes with slits and pleats in lightweight fabrics allow for breathability and ease.
Bomber jackets, tees, tanks, and slouchy pants remind you of her urban origins, complimented in contrast by soft feminine pieces and sharp tailoring that you've come to expect from ICB. The texture of twills and an almost "mirage" like printed silk stripe subtly expresses the natural lines in the desert sand, drawn by the wind.
The color palette resembles the desert, both visually and verbally with Vetiver and Sandstorm, accented by pops of Thorn and Desert Rose.
Inquisitive, Courageous, and Bold.
Photos courtesy of ICB