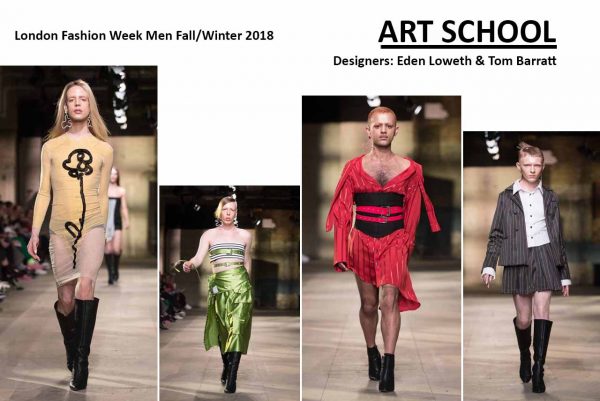 LONDON, Jan 7, 2018 / — Shown as part of MAN for AW18, ART SCHOOL continues to develop their work embracing their own way of soft tailoring, this means that garments are designed on the body rather than a flat surface or the dummy and constructed directly on the wearer, with their lives, history and experience in mind.
Soft tailoring is at the core of each ART SCHOOL collection. However soft tailoring is not a mere technique. Being soft is a theme reflected in all sorts of ways:
SOFT tailoring
When you are soft you show a little too much heart for things,
When you are soft you don't meet others expectations,
When you are soft you are weak and feeble.
soft TAILORING
It is about the sturdy structure of duchesse satin used in combat trousers,
being soft is about stabilised buttons in cuffs and collars,
being soft is knitted metal yarn worn on the body like a floating chain mail,
being soft is about school girls' skirts and slips with darting,
being soft is hand sewn Swarovski crystals dangling on top of sequins,
being soft is sheer shirts which retain their structure reinforced through trapped organza,
being soft is nude fabrics worn as transparent layers,
being soft is about blue velvet,
being soft is leather skirts lined with cotton.
"Black velvet registers as infinity on film with no form or boundary, a black without end, that lurks behind the blue sky." Derek Jarman
Informed by Chroma, Derek Jarman's meditations on colour, ART SCHOOL take a much darker turn this season. In his manifesto on colour, Jarman talks about black leather and jet as the colour of crystals, the black arts or the beauty of black sheep. His notes acknowledge that contexts chance and colour has no fixed meaning. For ART SCHOOL, darker tones speak of hope and iridescence. Brighter colours continue to characterise each wearer but also form a common language. This sense of togetherness, is based on a much broader message.
Words by Nathalie Khan.
"ART SCHOOL was created to convey a message, to create a dialogue of our lives and those of our friends, our loved ones who are never represented. We are here and we stand proud of who we are and where we're going"
Photos by Chris Yates, courtesy of Art School