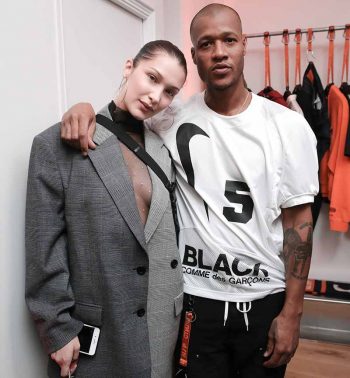 Fall/Winter 2018 also marks the debut of Heron Preston's NASA collection, an idea the designer teased in December 2013 when he appeared in a Styles Section piece in the New York Times under the headline, The Street Wear Designer Heron Preston Has His Eyes on NASA. This season, which coincides with the space agency's 60th anniversary, Preston's self-declared dream collaboration will be a reality.
The Heron Preston NASA capsule is a NASA-inspired collection that taps on the agency's authentic 1975 logo, which consists of the word "NASA" in a unique type style, nicknamed the "worm." The NASA "worm" logo, originally discontinued in 1992, is resurrected with Preston's FW18 collection. Inspired by the outer layer of Extravehicular Mobility Units, or spacesuits, Preston interprets the iconic uniform in the form of a 3M nylon space jacket, a silver denim logo jacket, and a multifunctional convertible backpack (which can also be worn as a fanny pack or tote bag). The collection is branded with "fall/winter 1990" as an homage to the former logo.
Womenswear offerings continue to evolve in this collection, which includes a snakeskin leather dress, crushed velvet bodysuits, and for the first time, women's suiting, with a two-tone oversize blazer and skirt. Preston also worked with luxury shearling and faux fur for the first time, letting elevated materials have a playful dialogue with his workwear influence. A crystal application of the "СТИЛЬ" logo updates Preston's signature for Fall/Winter 2018.
Rounding off the Fall/Winter 2018 collection, Heron Preston introduces a new collaboration with Carhartt WIP. Early in his career, Preston re-worked and styled vintage Carhartt WIP jackets for his website, and the brand's iconic canvas workwear remains essential to the Heron Preston DNA. This new collection will combine the classic canvas with Preston's crystal "СТИЛЬ" logo, a high fashion stamp on utilitarian garments.
The collaboration includes a fanny pack, beanie, jacket, vest and pants, all treated and paint splattered for a deep wear look, and accented with Heron Preston's signature orange trim. The treatment marks Preston's reverence to workwear as functional protective layers, capturing a moment in the clothing's life that makes it striking.
Photos courtesy of Heron Preston