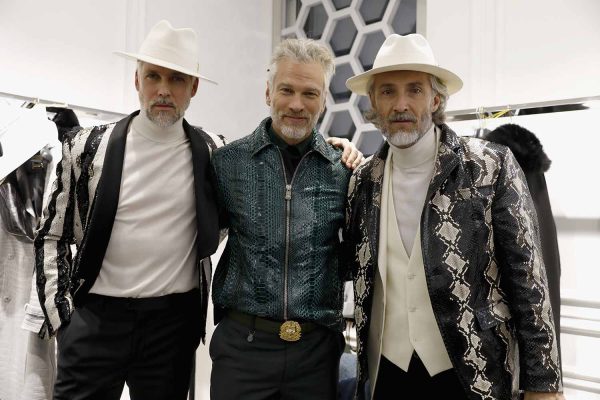 MILAN, Jan 14, 2018/ – From St Moritz and Aspen to Kitzbuhel and Courchevel, this season the Billionaire man and his band of jet-set brothers are to be found high up in the mountains. As the sun sets over snowy peaks, they gather in an exclusive men's club for an evening of après ski entertainment. Some fly in from a business meeting on their private helicopter and others come straight from a day on the slopes, but they all arrive dressed to stand out in the crowd.
Staged inside the William's Le Roi nightclub – an intimate subterranean pleasure palace in the heart of Milan – the Autumn/Winter 2018 wardrobe takes made-in-Italy luxury menswear to another level.
Combining protection from the cold climate but never compromising on ultra-quality and style, daywear features thick-knit Norwegian-style jumpers, three-piece suits in heavy corduroy, a loose fit herringbone overcoat, puffer jackets made from shaved mink with cashmere lining, a bomber in white mink and fur-lined mountain boots equipped with metal hardware. Shirting is constructed from beautiful silks and decorated in micro-design geometric patterns and, for moments of sheer opulence, there are python trenches and bombers, and full-length overcoats in mink and silver fox. Triple-lens sunglasses add the perfect protection whether from snow glare or dancefloor lights.
Elsewhere, eveningwear is a lavish display showcasing a burgundy velvet evening jacket with quilted detailing, a striped two-way sequinned tailored jacket, shawl-collared cocktail jackets with gold frog-fasteners and completed by velvet slippers with gold embroidered chevron motifs. And, for the last word in louche after-dark loungewear, there are matching silk robes and pyjamas in exotic Kashmir prints.