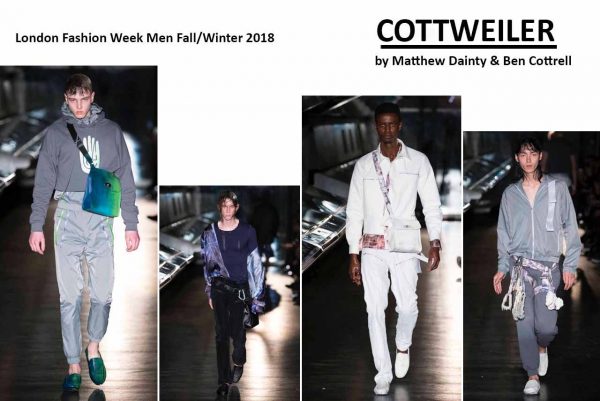 For Cottweiler, Autumn/Winter 2018 emerges from subterranean lakes of the Slovenian Krizna Jama cave network. The technical equipment of miners and cavers evolves with the organic structures and phosphorescent colours of the caves.
In perfect synch with this season's collection, the show was held at The National History Museum in the Earth's Treasury Room.
Merino wool provided by The Woolmark Company is pulled and distressed to form base layers and accessories.
Mulberry leather bags are reworked by Cottweiler – recoloured, texturized and polished.
Laser-cut leather – Merino Wool distressed – Nylon metallic Jacquard.
Real tree-printed silk embellished embroidery.
The tension between natural and synthetic, real and artificial, remains central to COTTWEILER's design practice.
COTTWEILER by Matthew Dainty & Ben Cottrell is an urban spelunker for Fall/Winter 2018.
Photos courtesy of Cottweiler