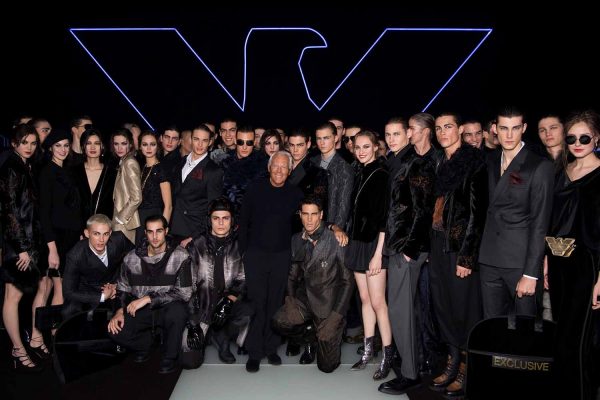 Emporio Armani is a hub of individuality that encourages everyone to be themselves; an identity which is characterised by the projection of one's own personality, finding character, strength and uniqueness in the differences in each of us.
The collection has a decisive, urban spirit, with an emphasis on the idea of new elegance: precious but not frivolous. The city wardrobe has a dynamic tone, combining the innovation of the lines with that of the materials. The slender and sharp silhouette is evidenced in small-shouldered, double-breasted suit jackets, worn with flowing trousers, a wool trench coat with technical buckles, and a seamless kimono-style bomber. The outerwear pays homage to the world of mountain hiking and outdoor activities, with curly-haired sheepskin coats and pony-effect goatskin jackets.
Surfaces are treated and processed to produce tactile effects: chenille sweaters with fade-out patterns, and jacquards with stylised trees and clouds creating a poetic camouflage-effect on sportswear; butterfly wings flutter like flowers on new tuxedos.
The palette is a dense amalgam of greys, blacks and deep blues, energised by the pure white of shirts, the cool tones of greens and blues and the metal accents of gold and bronze.
Accessories are functional, but come in refined materials: shoes with sharp lines, and capacious handbags featuring embossed patterns.
Photos courtesy of Emporio Armani