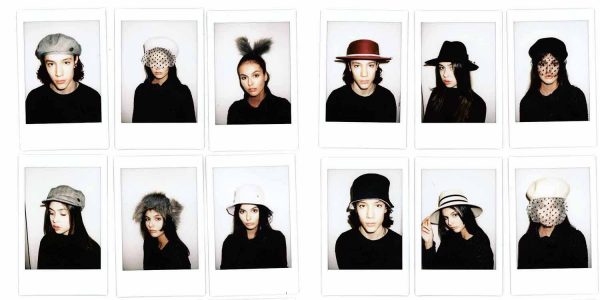 As long as she can recall, she has always been told she was ready to get married. Her doodles were never or strayed outside of the allotted frame, nor did the hair on her head ever take on a rebellious will of its own.
Today, Carol is perfect in every way; her cakes never burn, her stockings never run. Yet behind her placid gaze and her impeccably pressed outfits, one can detect something else than the discreet charm of the bourgeoisie: a storm is coming, deep within herself, that at first glance can barely be detected.
The young woman, impersonated by Catherine Deneuve in Roman Polanski's Repulsion (1965), inhabits the Autumn-Winter 2018 Maison Michel pre-collection. This unassuming, only seemingly calm character is rendered on screen in three chapters that punctuate the first half of the movie, before our heroine's decline into madness.
« Lazy in the Park » is a quiet stroll through her local garden, where sporty lines and baseball caps in electrical blue, beige, grey, burgundy, suggest an escape from banal surroundings.
« Going to work », her travel to the office, and is composed of floppy hats, fedoras, the basis of which is underlined by a thin belt, suggesting a delicate waist. Tweed, hounds tooth, fake fur, punctuated by notes of camel, powdered pink, black, bringing together the softness of her interiors and the ruggedness of public space.
And finally, « going on a date » – the fateful one in the movie – is enshrined in jacquard roses, embroidery, lurex, shocking red, pearl grey, bottle green, subtly questioning the binary culture of seduction.
These feminine canons are also evoked with a veil-headband, or a scarf-hat in wool etamin. And they examine the symbolic structure of Deneuve's character in the movie – one that is reminiscent of Isabel Adjani in Andrzej Zulawski' Possession (1981) or the character of Lola Valérie Stein in Ravissement de Lol V. Stein by Marguerite Duras (1964): they give complexity and unforeseen layers to what society simply calls pretty.
Photos courtesy of Maison Michel