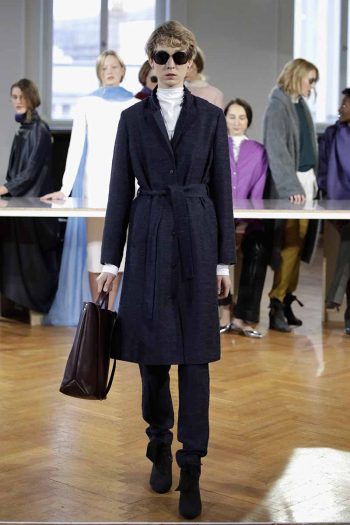 BERLIN FASHION WEEK / — Perret Schaad presented their Autumn/Winter 2018-19 collection during Berlin Fashion Week in the former dining room of Kronprinzenpalais. Even when empty, the proportions of this room seem to suggest that it was constructed right around a long dining table. This year's show took up this dominant – yet absent – piece and put it on centre stage. The table forms the basis of a gradually transforming tableau vivant, where the different looks form new relationships in accordance with the movement of the protagonists.
The collection is based on a choice of archival pieces first presented between AW10/11 and AW17/18. Johanna Perret and Tutia Schaad have put together an essential collection, which reflects their ambition to create timeless, modern designs, showcasing the fact that PERRET SCHAAD styles can be recombined and worn across seasons.
By opening up their archive to the public and the wearer, making some of their most essential pieces re-available, Johanna Perret and Tutia Schaad are sharing not only the incredible wealth of creativity and love of experimentation for which they are known, but also the experience gathered over the past years.
Always in close contact with their clients, independent, active, versatile women of all age, they have achieved a detailed, differentiated understanding of what their clients want – a wardrobe that is timelessly chic, modern pieces that are universally combinable.
PERRET SCHAAD presents a wardrobe for independent women, who break through boundaries and seamlessly move between roles, cultures and places.
The show itself attracted a lot of V.I.P. guests, many of them wearing PERRET SCHAAD. Amongst them were Eva Padberg, Julia Malik, Katharina Schüttler, Wana Limar, Nadine Warmuth, Anne Ratte-Polle, Anna Maria Mühe, Rabea Schif, Alina Levshin, Aino Laberenz, Lena Dörrie and Susann Atwell.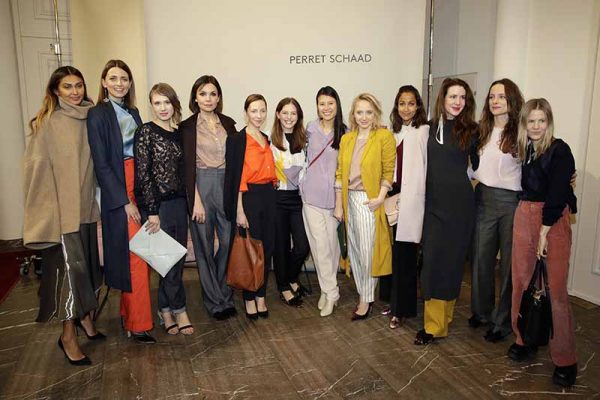 Photos by Getty Images, Andreas Rentz/ courtesy of Perret Schaad