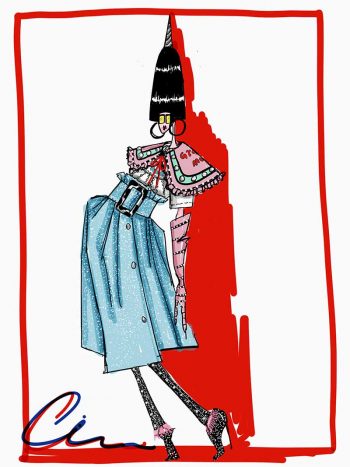 The Laurence & Chico Fall/Winter 2018 collection, "Doudou", further expands upon the brand's philosophy of dressing women who aren't afraid to make an entrance. Inspired by luxe, plush stuffed animals from their childhood, the collection is a mixture of bold, ultra-feminine, and flattering silhouettes.
This season, Laurence & Chico invite you to immerse yourself in their Pet Kingdom, where traditional animals are reimagined as larger-than-life characters including Alpaca the Llama, Lipo the Hippo, and Tsunami the goldfish.
Using Laurence's hand-drawn illustrations, Chico designed and tailored the collection with dramatic glamour, nostalgia and femininity in mind. Their play on proportions, and attention to intricate detail, continue to embody the definition of statement dressing.
Laurence & Chico is a Canadian womenswear brand established in 2015 by Laurence Li and Chico Wang. The brands inspiration comes from Laurence's personalized illustrations depicting their daily lives. The illustrations show only Laurence and Chico drawn as two human characters, whereas friends and family are all characterized into animals, plants, fruits or vegetable figures.
Laurence's illustrations evoke a unique sense of humor with vivid colors inspiring Chico to use elements from such to create an imaginative bold yet delicate prints and silhouettes for their collections.
Laurence Li and Chico Wang both studied at Parsons. Chico majored in Fashion Design and has worked with top luxury brands including McQueen, Givenchy, Miu Miu and world-renowned luxury boutique, Lane Crawford. Laurence majored in Fashion Marketing and worked in Barneys Buying Department.