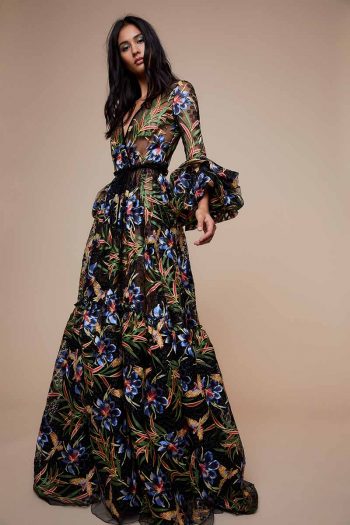 NEW YORK FASHION WEEK/ — "Women are forever inspiring, and our mission is to continue to inspire them," wrote Diane von Furstenberg on her press notes.
Back in the house of DVF, Nathan Jenden dived into the vocabulary of the brand and crafted an effortless and feminine collection, rich with vibrant color and prints; both new and with a wink to the archive.
"The spirit of DVF and its emotional connection to women is more relevant today than ever before. During my time away from the brand, I understood even more deeply its power and how important it is to celebrate its strengths: the wrap dress and its accessibility; the language of print, color, movement. Diane has an approach to life that is provocative, glamorous and with joie de vivre—my job is to capture her essence and translate it into timeless clothing," says Jenden.
Having known the family and Diane's granddaughter, Talita von Furstenberg, since she was a little girl, it was Jenden's idea to bring in Talita as the muse of the house. "DVF and TVF are both inspirational women across generations—beautiful, brave, and ready for anything," he says.
"I'm so excited to collaborate with Nathan," says Talita von Furstenberg. "My first memorable moment in fashion was from when I was 9, I worked with Nathan for a week on a fashion show at Pitti in Florence. I grew up with DVF, it's always inspired me, and I'm ready to jump in again."
Talita is photographed wearing her favorite looks from the Fall 18 collection: a yellow chiffon wrap dress with waterfall ruffles, a pleated silk dress embroidered with birds in flight, a green turtleneck tunic and flares in an archival cube print.
Continuing to put the woman at the center of everything, a new DVF chapter begins.
Photos courtesy of Diane von Furstenberg