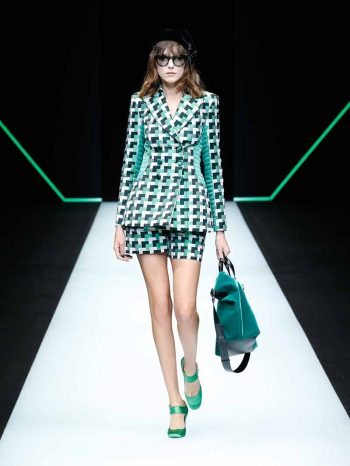 MILAN FASHION WEEK/ — "I enjoy watching people, bringing into my world the spirit of what I see around me, processing and reinventing it. Today everything gets mixed up, rules have been turned upside down. That's the freedom I wanted to capture in this collection," wrote Giorgio Armani in his press notes for the Emporio Armani Collection.
P.M., short for Post Meridiem literally means the time after midday or noon. It is Latin, POST means "after" and Meridiem is the accusative form of meridies, meaning midday
For Fall 2018, Emporio Armani proposes that it is Post Meridiem all day long. An unrestrained, night-time mood subverts dressing codes, mixing discipline and sparkle.
The mood is spontaneous. Everything is mixed up: what is traditionally designed for the evening is worn in daytime, with no need to show off or rebel.
Rhinestones draw pinstripes on incisive suits. Classic mannish patterns light up with touches of lurex; metal sequins and small mirrors reflect and multiply the light.
The silhouette is sharp: masculine trousers and jackets, fluid overcoats and short skirts are combined following no rules or prescriptions. The logo recurs and remarks, as a print or as a jewel.
Accessories amplify and highlight the idea of dressing up as a play of contrasts: rethought cowboy boots are paired with bold-shaped bags. Textures and finishes are focal, enhanced by a rich palette of blacks and greys lit up with touches of turquoise, green, and cobalt blue.
Night-time seductions, in a metropolitan scenario.
Photos courtesy of Emporio Armani