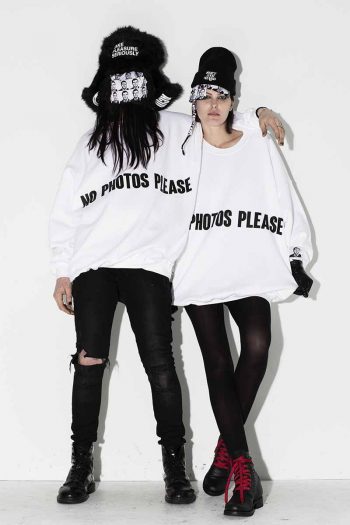 NEW YORK FASHION WEEK/ — Always fascinated with mixing styles from different cultures together, Ward Stegerhoek has created a cross-sexual, cross-cultural revolutionary aesthetic for WARDEMENTS Fall 2018. Styles include couture hoodies and oversize tees emblazoned with logos and patches with icons inspired by 90s club kids (ACID, smiley faces, etc) and slogans such as "No Photos Please" and "Nothing is New."
Checker plaid shirts, camouflage hoodies and bombers reflect aspects of nature and outdoor dressing mixed with a hint of army influence. The color palette is inspired by Holland, including orange, yellow, olive green, white and black. Denim has been added this season and is a category the designer plans to expand upon in coming seasons.
ardements has partnered with the Orange Babies Foundation to donate a portion of proceeds from limited edition hoodies (seen above) & tees, which will be included as a must-have addition for every retailer who carries the collection. Orange Babies helps pregnant HIV-infected women and their babies in Africa. Because they are the most affected by the AIDS epidemic and the last to receive aid.
Orange Babies supports various projects in South Africa, Namibia and Zambia. Ward explains, "It is important that we use our platform for a good cause. Each season we will continue this mission as the heart of the brand." The collaboration with Orange Babies was launched at a WARDEMENTS pop-up shop with V magazine and Inez & Vinoodh, which will be open through March 3rd a the V headquarters at 11 Mercer Street in New York City.
Accessories include an LCD screen handbag which allows you to personalize and carry your own video wherever you go. The video is downloaded inside the memory disk and automatically plays one after the other on an HD 7″ LCD Screen.
Collaborations are currently in the works with FRYE (boots, including the customized styles featured in the lookbook) and Kangol (hats) as well as brand new leather goods collaboration, WARDEMENTS X Vlieger and Van Dam (visible in the lookbook) including the "ASYLUM BAGS" designed by Ward. The collection is now represented by L.A Distribuzione showroom in Milan and Paris exclusively worldwide.
Photos by Heath Grout, courtesy of Wardements