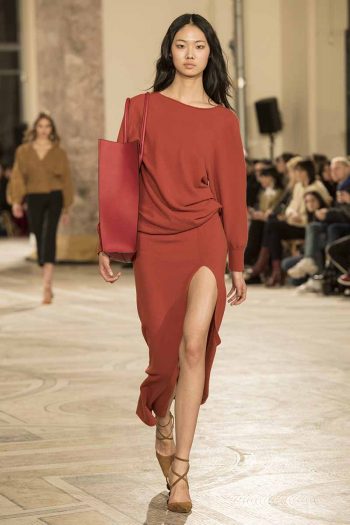 PARIS FASHION WEEK / — After the success of their collaboration for the "La Bomba" video, JACQUEMUS and the Woolmark Company have announced their next step, with winter collection "Le Souk", presented yesterday at the Petit Palais in Paris.
Designer Simon Porte Jacquemus is fervently devoted to using wool, and has worked closely with the Woolmark teams to find the most innovative fabrics that would most closely fit with the collection's themes: sun and warmth in winter.
Like the sensation of light and physical comfort in winter that the designer experiences in the course of his regular travels in Morocco.
"Often, after a fashion show, I go to Morocco. I ride my motorbike. I ride so much that at the end of the day my shirts smell of petrol. This winter I lost myself in the sukhs once again, with just one thing on my mind: making my next summer here. I went back to Paris, and I ended up making my winter of it. Without waiting, a warm winter. I'm happy to be taking the next step in my relationship with Woolmark, their expertise and support in finding the perfect wools for my inspirations has allowed me to expand my creative horizon."
As the a global authority on wool, The Woolmark Company, through its extensive network, works at all levels of the global fashion and textile industry to promote Australian wool as a leading natural fiber and a top choice in luxury ready-to-wear.
Woolmark is one of the most known and respected brands in the world. It acts as the guarantor of the high quality products bearing its logo, and as a pioneer of excellence and innovation throughout the supply chain, from farm to finished product.
The Woolmark Company is part of Australian Wool Innovation, a non-profit corporation composed of more than 24,000 producers of wool. The company works throughout the global supply chain and invests in the research, development, and marketing of Australian wool.