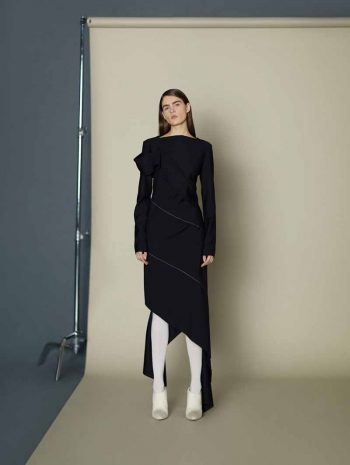 PARIS FASHION WEEK / — LITKOVSKAYA has showed its collection for a second time during Paris Fashion week, on Monday, March 5th, at L'Eclaireur concept store, rue Boissy d'Anglas. The Fall/Winter 2018-19 collection is inspired by Mexican artist Frida Kahlo. By a reflection on the image of Kahlo, on how she showed the strength of her character through wearing feminine silhouettes and her deep sense of style.
"In every era there is a woman who defines and in many ways symbolizes her time. For me Frida Kahlo does not only embody her time, she is the very embodiment of the values of LITKOVSKAYA. A woman of revolutionary views and traditional clothes, fragile and strong at the same time, full of love and tears – her whole life is the evidence of duality of human nature," says designer Lilia Litkovskaya.
The only direct reference to the image of Frida – the flowers – appear in this collection in the pattern of the black covered lace and leather appliqués on the corsets. Scarves and stoles, which the artist always flew around her shoulders, are reflected in significant LITKOVSKAYA's spiral cut. Dresses, skirts and coats wrap around the body, symbolizing the endless cyclic movement of life.
Textures, bright flashes of color and bold geometric patterns in the collection are inspired by another woman – Japanese contemporary artist Naomi Okubo. She hides the faces of all the heroines on her pantings – and that's what made us think about about the limits and personal freedom. Hence the combination of graphic cell, which symbolizes the limits and restrictions, with soft relaxed draperies, or weightless strands of silk threads with heavy perforated wool. The signature piece of this collection is a white Coffer Coat. This iconic silhouette of the brand created to replicate the shape of a real garment bag appears in every collection.