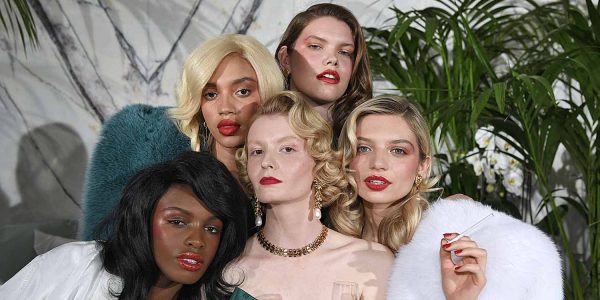 LONDON FASHION WEEK — Zizi Donohoe continues to expand the Old Hollywood Glamour narrative that has become the central essence of the brand. With her Autumn / Winter 2018 collection "Hotel Zizi" she induces this languid LA decadence with the fabulous gilded excess of the women of Dynasty. Shown in the Marble Penthouse of London's Mandrake Hotel, the "Hotel Zizi" capsule collection is the brand's first live presentation at London Fashion Week.
Zizi seeks to take this Joan Collins fabulousness and reposition it for 2018, using ethically sourced fur and sustainable production to create relevant and accessible pieces suited to the life of her woman.
Alongside footwear and accessories, Zizi Donohoe introduces for AW18 her monogrammed silk jacquard pyjamas and sweeping robes in the signature brand colours. She focuses on classic, wearable silhouettes influenced by the loungewear and lifestyle of 1940's Hollywood.
Inspired by the colours of the Beverly Hills Hotel, boas and slides incorporate touches of light pink and deep emerald green. Zizi Donohoe works closely with the worlds leading luxury textile suppliers.
For Zizi Donohoe, fabulosity and comfort are paramount. She strives to imbue designs for everyday wear with a sense of the sublime with dramatic and luxurious fabrication. The Zizi Donohoe universe, a pastel-hued homage to Madeline Ashton and Guy Bourdan, is designed from LA with the fabulous women of the world in mind.
Photos by Helle Moos