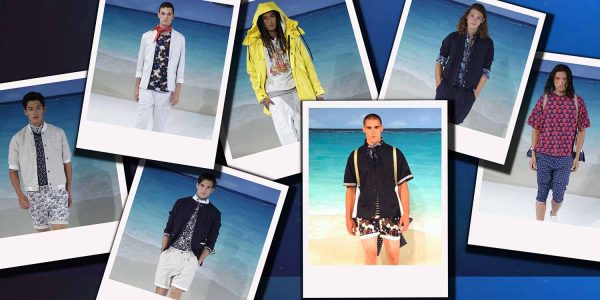 "The Spring 2019 collection is inspired by Tulum and the Mayan Riviera — its laid-back luxury, life of cabanas, untouched coastline, natural habitats, exotic cocktails and jungle parties with renowned DJs. A beautiful young international crowd arrives from world capitals of NYC, London, Milan, Paris and Barcelona to unplug and retreat from their fast-paced cosmopolitan lifestyles to a more natural, relaxed setting. They bring with them a piece of their urban lives, yet embrace the Mexican culture — its religious motifs, its Day of the Dead celebrations — while kicking back in beach sombreros and ponchos," wrote MATTEO MANIATTY, Creative Director and Co-Founder of Descendant of Thieves in his press notes.
Taking a look at the new leisure class that in the 21st century is identified as the Millennials, there is a new leitmotif – luxury is a frame of mind. They can be "offline," their gadgets and gizmos turned off, yet still vibrate with positive energy as they bring their zest for life in a quiet beach.
And as the Millennials redefine the leisure class, they also redefine the choices. While their forebears choose the refined and cultured French Riviera, the Millennials choose the raw, quiet and almost untouched Tulum Mayan Riviera. It's a new century, a new beginning and a new look at leisure.
Photos: Thomas Barnes