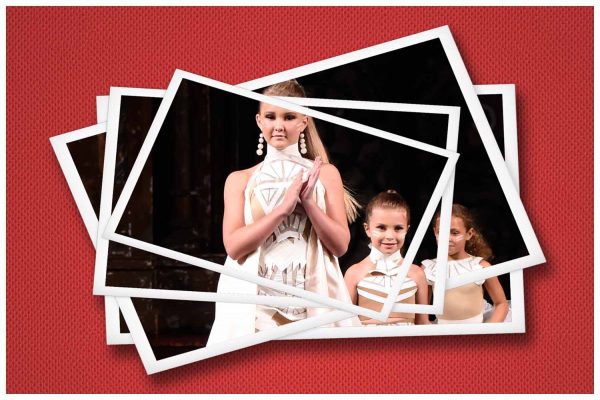 Alexandra Bujan is a 12 year old designer from Pass Christian, Mississippi with a wide range of talents. Young, but certainly not naive, Alexandra brings an enthralling mix of creative energy, youth, and independence to the fashion world. Alexandra began modeling when she was seven years old, through which she quickly discovered her passion for clothing design. Despite being in middle school, Alexandra has already shown collections at New Orleans Fashion Week, Los Angeles Fashion Week, and several other showcases.
Alexandra pulls her influence from many different places, though she is particularly inspired by European trends. Her previous collections are characterized by contrasting elements of dark fabrics and regal embellishments alongside lighter, coastal beach looks. No matter what she is designing, Alexandra strives to keep her clothes unique — she wants her clothes to make people feel comfortable, expressive, and confident.
She is motivated by her 4 year old sister, Arden. Arden is non-verbal autistic child that thinks her big sister gets up and hangs the sun for her at the beginning of each day. Alex has decided to donate all of her profits to her younger sister to help provide for the special needs she will face throughout her life and possibly even build a business to the point of being able to help provide for her younger sister.
When not preparing for a fashion show or entertaining her sister, Alexandra enjoys participating in extra academic activities from school. She's even been a member of the national beta club since 4th grade. But Alex is not all work and no play! She loves music and enjoys playing the guitar to wind down and relax. As a matter of fact, when the NY Fashion show is behind her, her next event to look forward to will be a music concert with the Ed Sheeran tickets she got on her birthday!
Who knows, maybe the concert will inspire her next fashion line!
Write-up and photos courtesy of Art Hearts Fashion