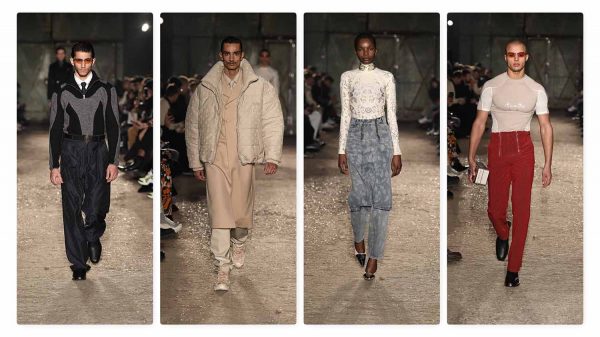 Designed by Benjamin Huseby and Serhat Isik, GmbH presented its "Rare Earth" men's and women's collection in the northern outskirts of Paris under the Peripherique highway. And for their fifth collection, Huseby and Isik continue the exploration of humans and their relationship with planet Earth, then goes on to an intergalactic journey.
And in the grand tradition of Gene Roddenberry and Isaac Asimov, science-fiction endures as the theme – the ultimate utopia – greatly influencing the GmbH collections.
For Fall/Winter 2019-20, sharp tailoring takes center stage propose in a neutral color palette ranging from ecru, midnight blue to anthracite. GmbH expanded their womenswear line with long Lycra dresses, skirts and stilettos.
The GmbH signature iconography – mining picks and stinging nettle graphics spreads across the collection in a jacquard print on puffers, Sculpted coats and suiting, long Lycra dresses, laser-printed denim.
Supportive structure harness details continue this season found throughout the collection on coats, sweaters, blazers. Hand-painted denim from Turkey resembling tarnished metal.
As an essential concern for the design duo, the protection of the environment and sustainability is a guiding principle for the brand with the majority of the fabrics used being recycled, reclaimed and organic.