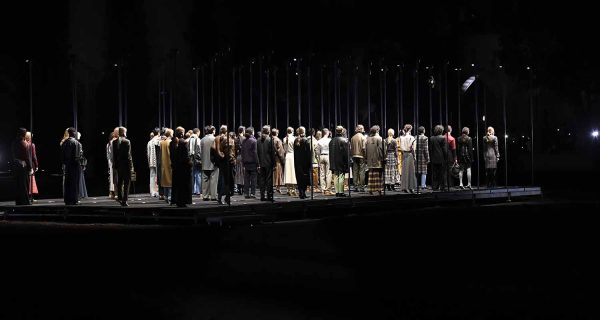 Known for his playful take on historical references, Y/Project Creative Director Glenn Martens took a backward step to the past then took two forward steps to the future to come out with a groundbreaking collection that surprisingly has an of-the-moment vibe.
As the invited guest designer at Pitti Uomo 95, Martens chose to celebrate the brand's singular identity while evolving to a higher level of sophistication. Presenting a high-concept show aimed at transporting guests out of time and space, he chose the mystical Renaissance setting of the Santa Maria Novella's Grand Cloister in Florence as the venue.
The cloister was plunged in darkness – flashlights handed out to guests at the show entrance as the only source of light, giving a surreal mood to the moment. Martens then sent male and female models wearing tailored pieces that borders on androgyny. Yet, instead of being futuristic, as is the wont of unisex pieces, the clothes are contemporary and edgy.
Pop-up and double-shoulder design features permeate through the tailored wardrobe, giving unexpected 3D effects to classic wool trousers and reinterpreting the formal tuxedo in the brand's own conceptual language.
The menswear line expanded towards new territories: for the first time the brand proposes its own footwear and bag lines, both hand-crafted in Italy.
All men's shoe styles (thigh-high boots, mid-calf and low) are square-toed in: baby blue or sand suede, metallic, crocodile-embossed and patent leather. Tuxedo-inspired black and white men's dress shoes complete the line.
And the accessory de rigueur -black nylon bags that come in a brown leather frame structure and are available in a variety of styles: weekend bag, backpack and fanny pack.
Photos courtesy of Y/Project