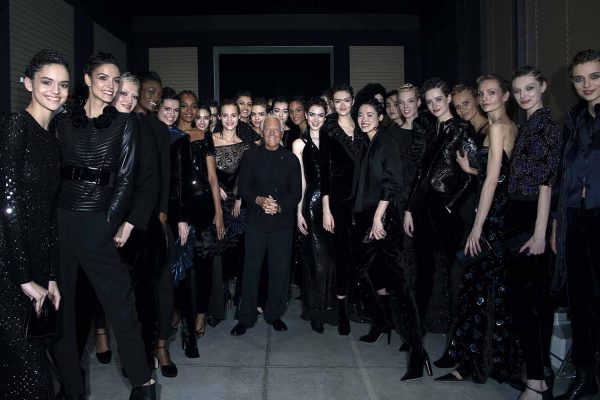 For the first time, Armani/Silos is hosting a runway show in the setting that encapsulates and summarizes the work of Giorgio Armani. With Naomi Watts, Rosamund Pike and Austin Mahone sitting front row, feminine figures slim and slender like pencil strokes, move throughout the rooms together with strong yet graceful men.
In what seemed to be perpetual night, male and female models wore complementary expressions of the same vision. United through the color blue: deep and vibrant, the Armani Shade par excellence pervades everything, defining a timeless, velvety elegance that is perfectly balanced.
The female silhouette is elongated and curvaceous, sketched with short jackets close-fitting at the bust, trousers with curved edging, pencil coats and draped blousons.
Collars disappear, and asymmetrical markings sweep over the pieces like brush strokes, adding a sense of motion to the figure, along with an interplay of inlay work.
The effect of movement is also suggested on the surfaces, which are covered in photographic prints of knots and drapery, enlarged to the point of becoming abstract.
The eveningwear is lengthened, dazzling and sleek with its sparkling garments, featuring styles as simple as t-shirts or velvet jumpsuits that make a statement with their textural, agile flair.
Soft tailoring dominates the men's collection, while midnight blue velvet adds a sense of depth: the material of choice features in short, compact double-breasted blazers, parkas and coats that are comfortable and enveloping and suggest movement.
The stylistic narrative unfolds, alternating between subdued formality that anticipates the surprise return of the tie, and an equally understated athleticism, where jackets and anoraks are paired with tailored, flowing trousers.
Conscious nonchalance is the distinguishing feature – the expression of a vision of masculinity that finds power in elegance.