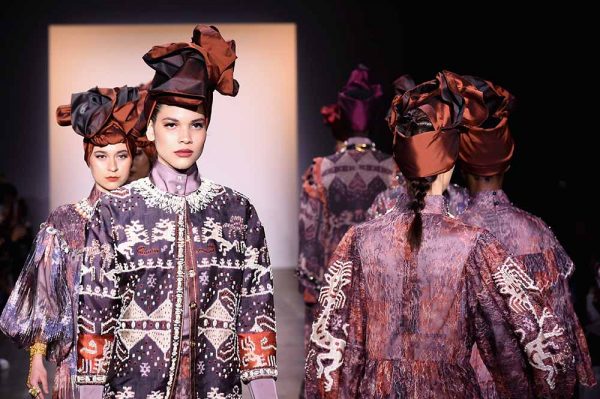 Four dynamic Indonesian designers put a spin on the FW19 collections at NYFW: The Shows on Thursday, February 7th at Industria. One of the four is Jakarta-based Itang Yunasz.
In a group show, the attention of the audience is divided, which in this case is divided into four. But Itang Yunasz easily captivated the crowd as he sent out flowy dresses that epitomized luxury, batik-chic, the traditional print of Indonesia, transporting them to a dreamy Jakarta night.
Intricate details like crystal embroidery and seashells created a boho-chic aesthetic on the tulle, silk organza full length dresses that can easily be worn day or night – with the promise of transporting you to an Indonesian paradise. Each look was adorned by show-stopping turbans made from traditional fabric.
Photo by Yuchen Liao/Getty Images for Indonesian Diversity