Karl Lagerfeld, the iconic Chanel fashion designer, has died at age 85, the French fashion house has confirmed. He died after a short illness. Tributes are pouring in from the world of Haute Couture.
Bernard Arnault chairman and CEO of LVMH:
"With the passing of Karl Lagerfeld we have lost a creative genius who helped to make Paris the fashion capital of the world and Fendi one of the most innovative Italian houses. We owe him a great deal: his taste and talent were the most exceptional I have ever known. Artistic director of Jean Patou in 1959, creator of Fendi since 1965, member of the LVMH Prize jury since its creation in 2013, he honored the LVMH group with an extraordinarily stimulating creative and entrepreneurial friendship," Arnault said.
Karl Lagerfeld was born in Hamburg, Germany, on Sept. 10, 1933. At just 17, he landed a job as an assistant to French designer Pierre Balmain.
By 1962, he had a freelance career working for a variety of designers in France, Italy, England and Germany.
He began working with Italian fashion house Fendi in 1965 and continued as its creative director until his death. He became creative director of privately owned Chanel in 1983 and the following year created his eponymous fashion house, while continuing to work with Chanel and Fendi.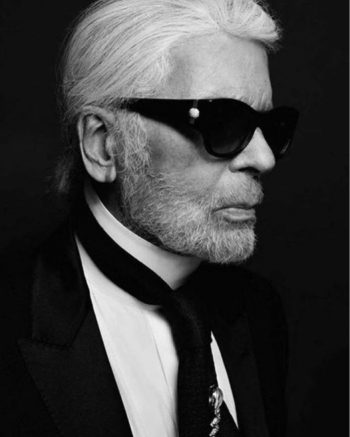 In the late 1980s he began shooting his own fashion campaigns, and many of his images were published in books by Steidl.
Lagerfeld was also a renowned illustrator, producing 60 illustrations for a 1992 edition of "The Emperor's New Clothes," by Hans Christian Andersen.
He was recognizable for his white pony tail, high starched white collars, dark suits and glasses. In 2000, he slimmed down his look, losing 93 pounds, and wrote a best-selling book about his diet, "The Karl Lagerfeld Diet."
In 2011, he was given a white-haired cat, Choupette, by French model Baptiste Giabiconi. The cat has become a famous face in the fashion world, garnering her own social media following, participating in some campaigns and even has her own set of personal maids. In 2017, Lagerfeld created a collection called "Karl the Photographer" featuring self portraits of him and his cat on a range of bags and accessories.
In 2017, Lagerfeld was awarded Paris' highest honor, the La Medaille Grand Vermeil de la Ville de Paris. That year, he also designed two suites at the city's Hotel de Crillon, and in 2018, designed a "six-star" hotel in Macau in his name.
Virginie Viard, Chanel's deputy artistic director, will become chief designer, following Lagerfeld's death.