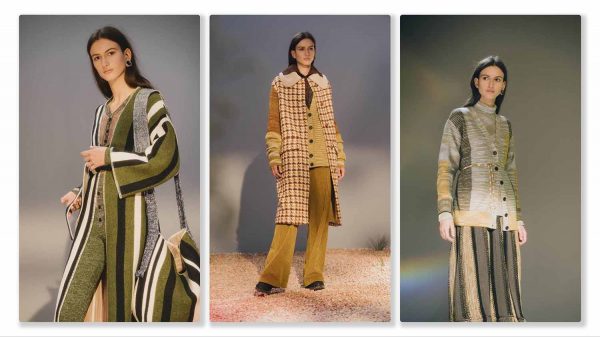 Just yesterday, I was admiring the M Missoni store window at its outpost at 426 W Broadway in downtown New York and next thing I knew, the brand's Fall/Winter 2019 collection was being unveiled!
Yes, I was impressed with the Mother Earth/Gaia feel of the Spring/Summer 2019 collection that was in the window. And here's the clincher – the M Missoni Fall/Winter 2019-2020 collection just wowed me.
Coming from strength to strength, this next fall/winter season, M Missoni brings the free-spirited woman into the North American woods.
An outdoor inspiration meets the effortless aesthetic of the brand. The result is a colorful wardrobe injected with a cozy feel highlighted by the tactile quality of the garments, which are cut in flattering yet always comfortable silhouettes.
The geometric patterns of rustic blankets and the traditional patchworks of quilts inspire the graphic appeal of the collection, which reveals a great artisanal touch.
Baja stripes pepper the maxi cardigans cinched at the waist with coordinated belts, fair isle drawings enhance the wintery mood of wool crewnecks crafted with sophisticated knitting techniques, while geometric oversized sweaters show unfinished details for a lived-in effect. Cut in skin-tight silhouettes, melange ribbed tops and leggings are warm and luxurious second skin garments.
Outerwear takes center stage with the juxtaposition of different materials. Tweed, knitted inserts and eco-shearling are mixed and matched on the jackets and coats worked in bright tones, while wool is treated to create a fur-like feel on the color blocked designs.
I have only one regret though… I have to wait six more months before I can get hold of these pieces!
Photos courtesy of Missoni