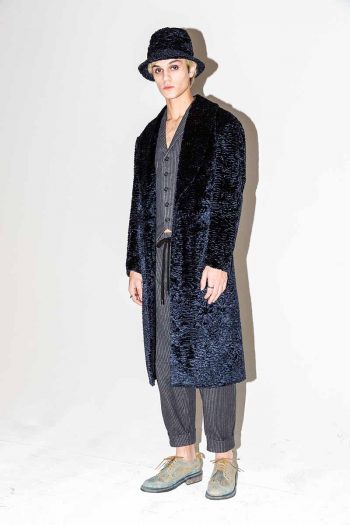 Inspired by the iconoclastic figure of Don Van Vilet (Captain Beefheart), a cult hero of the California psychedelic/desert rock scene of the late 1960's and early 1970's, Krammer & Stoudt proposes retro looks that surprisingly fits very well with the Millennials and Gen Z.
Oversized suit jackets with sharply pointed lapels, it is very easy to see style elements of the 1969-1974 rock & roll era. Thinking of Hotel California or Ventura Highway fame? You're right. There is an emphasis on the culture of the Sunset Strip and the wide open spaces of Joshua Tree, CA.
Here's a food for thought – the original wearers of this styles are still alive, albeit they are now on the sunset of their lives. For their children or even grandchildren see them in a new light makes you think that we have once again come full circle when it comes to fashion.
Photos courtesy of Krammer & Stoudt