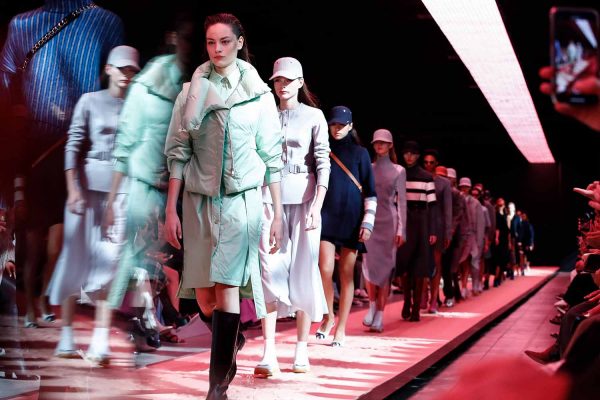 With AI (artificial intelligence) being touted as the next big thing and foldable smartphones a nod to the classic flip phone, Sportmax took a cue from the tech world and proposes a vision of classicism projected into the future for Fall/Winter 2019-20.
Working on the silhouette, the collection develops a new concept of dynamic feminine and futuristic tailoring, that is also interpreted in the new combination of suits created by mixing two joinable pieces, wearable in multiple ways to become the classicism of the future.
Sunglasses, the accessory de rigueur are characterized by strong shapes, contrasting materials and asymmetrical lines. A new sneaker collection, marked by overlapping layers on the upper in suede, rubber-effect leather and 3-D concentric circles on the soles, delineates a new dynamic shape.
A sense of energy emanates from outwear pieces, from coats to bomber jackets, that defines new volumes through the shoulders, emphasizing the play on curves and contours.
Building on the concept of classicism of the future, a part of the brand's DNA, the collection proposes oversize double-face coats and those with placement stripes. Blazers and skirts combine various patterns and materials while the cashmere shearling jacket had been given back seams.
Reimagining the trench coat, this classic outerwear can now be divided into two pieces, mixed and match with the leather vest. That same vest is a key garment for Fall 2019. It can be paired with RTW pieces and knitwear, interplaying and enriching the wardrobe combinations.
The sportswear-inspired attitude of lightly padded nylon dresses and matelassé shirts with graphic effects styled with baseball caps complete the look.
Choosing gray as the main color for the palette, it was proposed with sartorial-inspired fabrics, like pinstripe wool, herringbone and stripes.
Breaking the rules, Sportmax also chose to insert delicate colors which is evocative of spring – touches of white, beige, sand, light blue and caramel.
Crossing materials with one another, wool is mixed with leather to create contrasts between matte and shiny effects. Bright colors on the padded nylon garments and on the printed and patterned knitwear vibrates in stronger hues of rust and bright blue, turquoise and green.
Photos courtesy of Sportmax