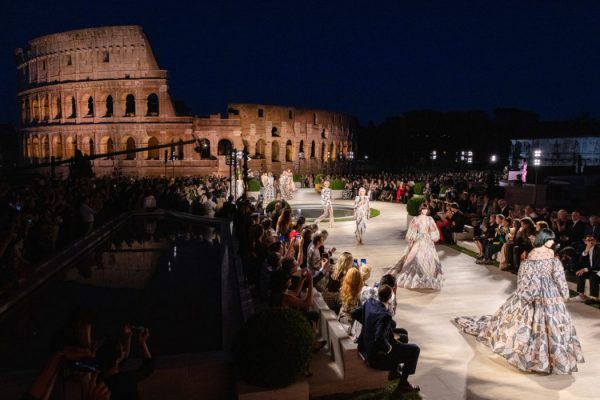 Recently, in Rome, guests gathered at the heart of the ancient city to preview Fendi's Fall/Winter 2019 Haute Couture collection—a tribute to the late Karl Lagerfeld, entitled "The Dawn of Romanity." Atop the Colle Palatino, the centermost point of the city's seven hills, the evening began at sunset, where attendees enjoyed a private cocktail overlooking the beautiful views below.
Once darkness had fallen, the night's happenings continued at the crumbling Temple of Venus and Rome, where a presentation of 54 looks—a number referencing Lagerfeld's years of tenure with the house—showcased the modernity of Fendi next to the power of Roman history, accompanied by a live soundtrack from Italian composer Caterina Barbieri.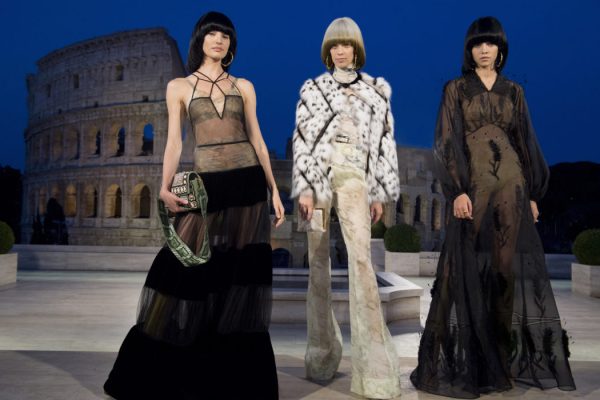 The season's designs were inspired by classical architecture, nature's own systems, and the cinematic allure of the Roman woman. A selection of Lagerfeld's archival sketches, chosen by Silvia Venturini Fendi, informed many of the new silhouettes, like an empire-waisted dress with a print reminiscent of a mosaic inlay. Looking at Raniero Gnoli's publication Marmore Romana, the collection also featured an exploration of marble, which yielded prints and patterns evocative of stonework and a tranquil palette of pastels like jade, rose quartz, citrine, and gold-flecked earth tones.
Cuts were elegant but loosely-draped and we saw ultra-feminine styles like deeply cut necklines, jackets belted at the waist, and skin-baring bra tops and mini shorts, worn under long patterned coats. Each model walked the runway styled with a 1970s under-rolled bowl cut, which added to the old-school glamour, seen in elements like oversized sunglasses, pointed shoulders and bishop sleeves, thick mink accessories, and silk moiré palazzo pants.
Standout looks included the selection of sheer designs layered over frosted lingerie, the champagne colored printed gown with the beaded straps, and the multi-colored mink and marble jacket, paired with boots and a shoulder bag.