Burberry has unveiled the FW19 collection and to do so Riccardo Tisci, Burberry Chief Creative Officier, has collaborated with photographers Danko Steiner and Nick Night, who have represented the items of the new collection with very personal visions.
Burberry's journey continues in redefining a new identity and a perfectly codified lifestyle, starting from the values ​​of British high fashion and that sense of freedom of expression that has always been the basis of Tisci's projects. The two photographers frame the collection from different points of view, one modern (Night), the other (Steiner) more refined-looking for a relationship with nature and the power of landscapes. Steiner himself explained his shots in this way
"It was Riccardo who had the brilliant idea to shoot the collection by the sea. The result is that these classic silhouettes of his Burberry ladies and gentlemen end up being framed by water. The concept of water came directly from the theme of Burberry's Tempest show. While the ocean is an enduring, beautiful backdrop for photography, we wanted the sea to play a larger part in the images – water is the source of change and discovery. We wanted our amazing cast to interact with the idea of engaging with a powerful, natural force. I have always believed that the seas and oceans unite us". – Danko Steiner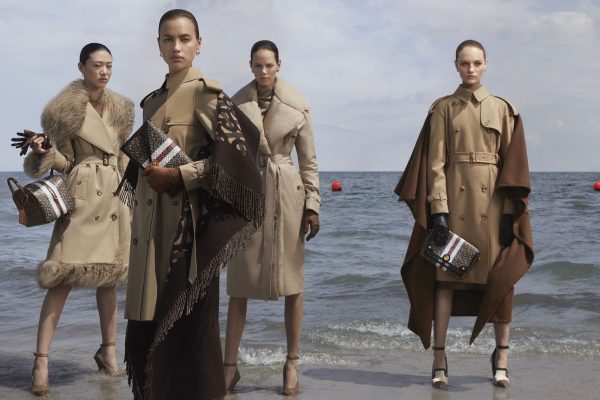 The brand's historical garments such as trench coats and jackets combine with cashmere details, to complete classic looks broken by inserts inspired by the world of sport, such as the reworking of the football jersey or the polo shirt.
On the other hand, maritime sports inspire wool bags, details on silk shirts and skirts, which once again combine fibers of sartorial tradition with others such as jersey and neoprene.
"I have been thinking a lot about England as a country of contrasts, from the structured to the rebellious and free, and I wanted to celebrate how these elements coexist. My first season for Burberry was about starting to develop my alphabet for the house, it was about identifying new letters and new codes. And now, I'm starting to put these letters together to begin writing my book here, to form the first chapter for a new era at Burberry". – Riccardo Tisci.

Image Danko Steiner and Nick Night
Courtesy Of BURBERRY

In the cast of the collection some great supermodels like Irina Shayk and GigiHadid, along with Fran Summer, Sora Choi, He Cong, Freja Beha Erichsen and many others.
The full collection is available to purchase in store and on Burberry.com globally from today.