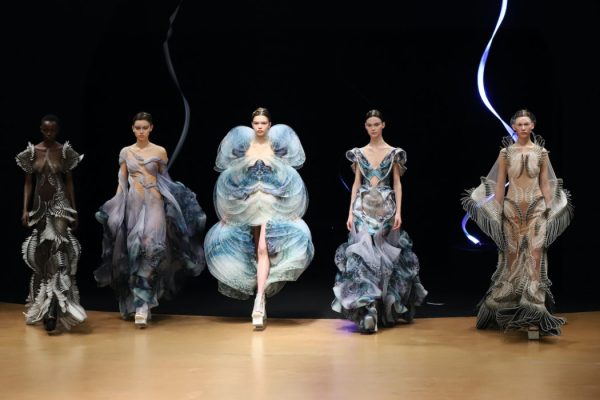 For Spring/Summer 2020 Haute Couture, Iris van Herpen debuted a 21-piece collection of wearable sculptures inspired by Ramón y Cajal's scientific illustrations of the human nervous system, along with the enchanting nature of Hydrozoa sea-life organisms.
Models emerged from a series of light wave sculptures by Paul Friedlander, weaving their way through the space like the ebb and flow of the ocean, clothed in garments crafted from billowing waves of fabric, cages of tiny bonelike structures, and blooming layers of fabric that appeared to take on a life of their own with each step of their wearer.
Entitled "Sensory Seas," the collection employed a palette of vibrant ocean hues like blue, purple, red, and green, along with three primary techniques to obtain the highly detailed silhouettes—a Labyrinthine approach using 3D laser cut silk, 3D printing to obtain the blooming quality of the lacelike Hydrozoa, and a Morphogenesis style (done in collaboration with Philip Beesley), which included details carved from thousands of layers of screen-printing mesh.