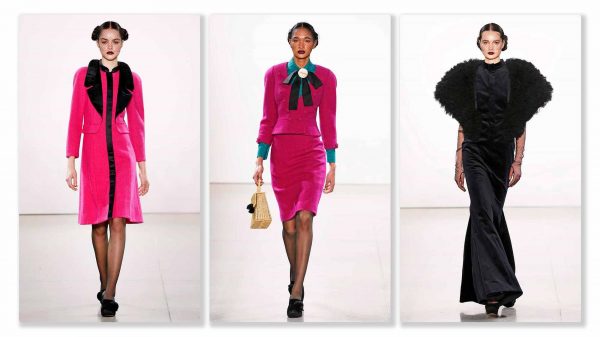 With the recent opening of the Chocheng boutique at 751 Fifth Avenue in New York City still fresh in the minds of fashionistas, Cho Cho Cheng, the creative force behind CHOCHENG wowed the fashion set once again with an elegant collection that is powerfully feminine.
Inspired by Shirley Maclaine's iconic style in the 1960 film, "The Apartment," Chocheng brought us back to the time of the leading edge of the cultural revolution. The earliest Baby Boomers were just coming of age and change was on the air.
For Fall/Winter 2020, a press photo for "The Apartment" featuring Shirley Maclaine in her tuxedo was particularly appealing for Cho. This photo was revolutionary for its time. Yves Saint Laurent just introduced the tuxedo suit for women, and it is this pioneering spirit that Cho zeroed in on – the feeling of something familiar yet very new in its execution.
Sending on the runway dress suits with a whimsical interpretation of the impeccable British tailoring, Cho proposed that office wear can actually be worn for date nights! Just wear statement jewelry and voila, instead of being the boss, you are now a femme fatale to your significant other.
This has been the theme for Chocheng Fall/Winter 2020.Silhouettes reference equestrian style and trompe l'oeil jackets are at the forefront this season. The male/female interplay is often evident in Chocheng shows, the key is to display femininity and authority at once.
Also, notable this season is the innovative approach in creating form and silhouette through natural fabrics. Use of hand-ruched tulle gave the effect of a fur or shearling collar. Also featured are Chocheng's signature cotton boucle jackets, cotton crepe shirts and handsewn petals accessories.
Familiar yet new; traditional yet innovative – Chocheng continues to be on the leading edge of young designers changing on how we consume fashion.
Photo courtesy of Chocheng