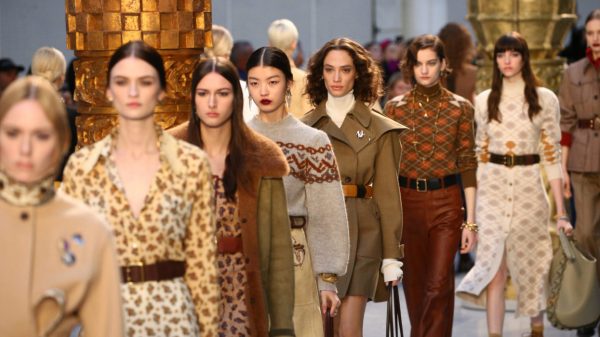 With no clear end in sight to the quarantine measures now in place in response to the coronavirus pandemic, the industry's summer fashion weeks in Paris, Milan and London have been cancelled or postponed.
The Board of Directors of the Fédération de la haute couture et de la Mode announced Friday that Paris men's fashion week, previously set to take place from June 23 to June 28, and Haute Couture Week, once scheduled from July 5 to July 9, will not take place.
"The Federation is actively working with its members on possible alternatives," the group said in a statement released Friday.
The Camera Nazionale della Moda Italiana announced simultaneously that men's fashion week in Milan, scheduled from June 19 to June 23 just before Paris, will be postponed and merged with the city's womenswear week in September 2020.
The Italian organisation said in a statement that it is working on digital alternatives to the runway shows set to take place during the originally scheduled men's fashion week so that the buying season can remain on schedule.
"We are aware that great efforts will be made in order to have the new collections ready by June to start an innovative selling campaign," the statement read. "The 800 Milan showrooms will have an active part in this new storytelling."
Similarly, the British Fashion Council said the men's shows in London scheduled for June will not happen, and that the organisation "is looking at new ways to digitalise their fashion showcase platforms." And in New York, the Council for Fashion Designers of America cancelled the resort 2021 schedule and urged designers not to present collections.
The cancellations came the same day France extended its national lockdown until April 15, as Covid-19 death rates hit a record in the country on Thursday, and Italy reported its single biggest spike in deaths on Friday.
The Paris men's and couture weeks are the furthest out fashion events that have been cancelled thus far. In recent weeks, brands and city organisations have opted to indefinitely postpone cruise shows set to take place across the world, as well as the Metropolitan Museum's Met Gala in early May and the CFDA Awards scheduled for early June. Moscow's Mercedes-Benz Fashion Week Russia, originally set to start next week, was also derailed and some events will be livestream in April and May instead.
"It's too early to say exactly what will happen…. It depends on a number of factors," Pascal Morand, Executive President of the Fédération Française de la Couture, told BoF, adding that brands will perhaps not produce as many collections this year.
Morand said he and his team are in close contact with the federation's members, addressing concerns from smaller businesses in need of government aid. He stressed the need for innovative alternatives to present collections that go beyond virtual showrooms or other digital tools: "We have to be positive and proactive and to work."
The fashion week cancellations will have significant implications for brands, which will need to figure out how to approach marketing new collections and, most importantly, selling them to retailers. For Shanghai Fashion Week, which was held this past week, designers live streamed collection presentations from their studios. Some may choose to stage audience-free runway shows, as Giorgio Armani did this past Milan Fashion Week. Digital showrooms like Nuorder, Joor and Ordre, which allow buyers to view and order clothes virtually, will certainly play a larger role. (Their engagement and usage was up significantly during the Paris and Milan women's shows, which took place just as the outbreak began in Europe.)
This is assuming that there will be buyers to buy things. As retailers across the US and Europe have been forced to shut down their physical stores with no indication of when they may be able to reopen, many have cancelled Pre-Fall orders, with plans to significantly reduce orders for fall and winter. (One brand told BoF that a major US contemporary online retailer was already planning to reduce its fall order by 30 percent.)
Couture is another matter. While not as significant of a revenue driver as accessories or beauty, it is an important part of the luxury goods business model. Couture relies on high-net-worth clients, who attend the shows and often place orders soon after. By the first week in July, when couture takes place, it might be possible to travel to certain countries to do one-on-one appointments with customers, who often spend well over $100,000 for one garment. If China has returned to normal by then, there may be an opportunity to host an event there or elsewhere in Asia, or to conduct appointments via Zoom or another video streaming platform. Regardless, it's going to be complicated, and difficult, to make couture work this season.
VIA: Business Of Fashion