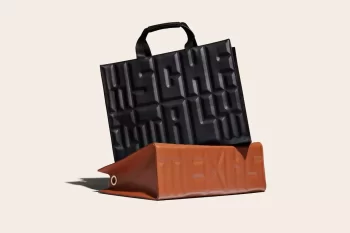 MSCHF, the controversial Brooklyn-based art collective has launched its first Made in Italy bag. Too bad that by Italy we don't mean the boot-shaped peninsula we all love, but the eponymous Texas town of 1,863 inhabitants.
Made of quality embossed leather, the bag has a relatively affordable price tag of $550 for both the brown and black variants, both available from 15 November on MSCHF's website. Appropriately, MSCHF presented the new bag with a campaign with a country vibe shot in a not-so-Italian location: the famous Lucali pizzeria in Brooklyn.
In MSCHF's first bag, the reference to 'Made in Italy' is deliberately ironic: through the play on homonyms, the collective reflects on the true value of a production boast that for years has been a guarantor of quality for the great international luxury brands. Basically useless labels, especially since consumers still lack full transparency on the supply chain and have no idea whether a product made in Italy was produced entirely in Italy or simply finished there. From the origin of materials to the working conditions of employees, MSCHF reflects on everything, continuing its tireless work of social satire.