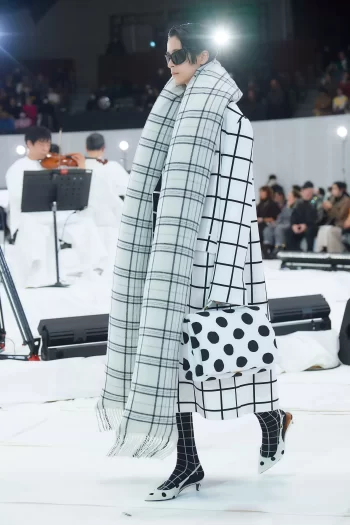 Clean lines, no cut-outs, little mohair, a riot of checked prints, polka dots, primary colours: Marni's FW23, a season after the psychedelic runway that took place in New York in the dark tunnel under the Manhattan Bridge, shows Francesco Risso's imagination from a new angle. Influenced by the Japanese discipline and the tendency towards simplification that dominated the Milan Fashion Week, the brand's new collection is "austere and intimate at the same time", the result of a reflection that led Risso to question the very meaning of "dress-making" and to push towards new horizons (stylistic and geographical). "It's a collection that has one foot in tradition and the other in a not impossible future – he revealed to Vogue backstage – It's a kind of rhythmic alternation of proud normality and proud creativity."
The took place in Tokyo at the Yoyogi National Gymnasium hall built by architect Kenzo Tange for the 1964 Summer Olympics.  Risso can by no means be described as a minimalist, the collection swapped the usual extravagances for sharper, cleaner lines, while the colour palette was reduced to a few primary shades in the form of Clueless-esque check prints or Kusama-esque polka dots: yellow, red, white, black. Each look was an all-over proposition, for both men and women.
The mohair that made Risso famous all over the world was declined in round-cut jumbo jackets, in line with the newfound passion for bomber jackets that will characterise the whole of 2023, while the influence of Japanese minimalism was evident in rectangular tunics and angular apron dresses. The whole thing ended in a dreamy spiral seen from above, in a whirl of garments arranged by colour.