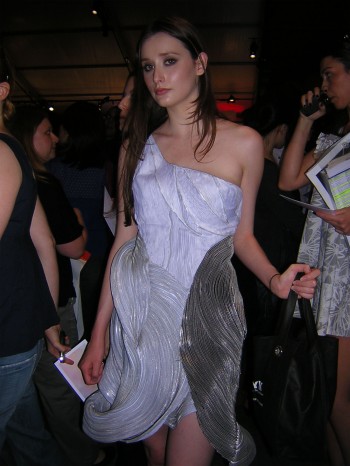 NEW YORK, Sep 7, 2008 / FW/ — A dress made of zippers; it was a natural choice for YKK, the world's largest zipper company and also a manufacturer of other fastening products.
The initials YKK stood for Yoshida K?gy? Kabushiki-kaisha was founded in 1934 by Tadao Yoshida. Since its inception, YKK had been in the forefront of innovations in its field. So, it is not surprising that YKK claims to be the first zipper company to promote environmental protection measures.
YKK developed a line of environmentally friendly zippers, following the company's philosophy "The Cycle of Goodness" which means that one prospers when the person renders benefit to others.
Aside from the obvious function of zippers, what have we seen so far as non-conventional use of the item – a purse made of zippers, the dress of course, and the big hit this season at the tent – mobile phone holder
[MARI DAVIS]