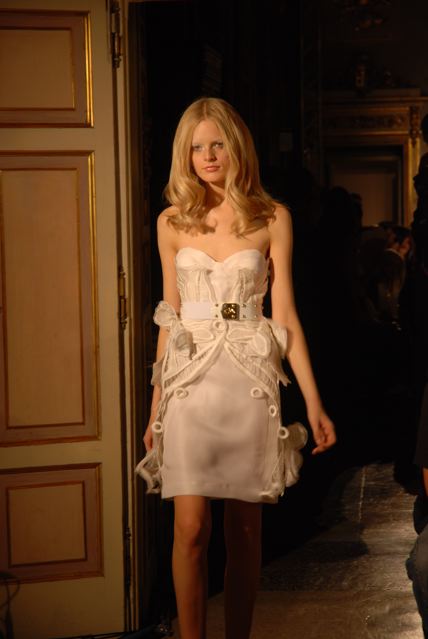 MILAN, Sep 23, 2008 / FW/ — With different shades of white as the main color palette, there is a virginal quality in the Francesco Scognamiglio Spring 2009. It's ethereal and gentle but there is also a smoldering of sensuality and mysteriousness.
Giving a nod to this season's ruffles and 3-D appliqué, Scognamiglio sent out dresses and blouses in light silk and organza embellished with bows or 3-D flowers for daywear and encrusted with "CRYSTALLIZED™ – Swarovski Elements" for eveningwear.
Used to create random splashes of light or illuminate an entire garment that goes beyond the normal eveningwear concept, the Swarovski crystals sparkled and shimmered in the catsuit, an enchanting vision of fantasy. Beautiful knitwear decorated with crystals, intarsia, and large lace flowers applied to chiffon are also dreamy.
Distances are shortened and different periods harmoniously blend: the somewhat austere allure of the 1930s and the avant-garde moods of the early 1980s are given a contemporary twist.
Lines and construction reveal hallmark couture skill that creates well-shaped, balanced, precise silhouettes, with knee-length skirts for day and long skirts for night.
[LISA HELM with additional reporting by SARA CONDE]
Photos by Lisa Helm
Related Post:
Milan Fashion Week Spring 2009