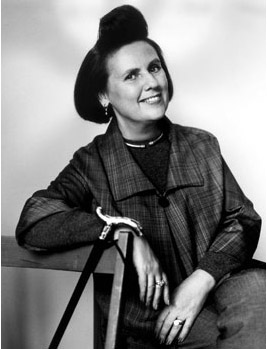 SAN FRANCISCO, April 27, 2010 – The School of Fashion at Academy of Art University in San Francisco, California will debut the collections from graduating students of the Accessory, Knitwear, Men's Wear, Technical, Textile, and Women's Wear Design areas of study at the San Francisco Graduation Fashion Show and Awards Ceremony on Thursday, May 6, 2010. This and all events are by invitation only.
Before the fashion show, Dr. Elisa Stephens, President of Academy of Art University will present an Honorary Doctorate to Suzy Menkes, OBE, Chevalier de la Légion d'Honneur, and fashion editor of International Herald Tribune.
During her visit to the School of Fashion, Ms. Menkes will meet with Fashion Journalism students and give a lecture to the students in a question-answer format with Gladys Perint Palmer, executive director of fashion, on Thursday, May 6.
Suzy Menkes' visit coincides with the University's participation in the inaugural BritWeek San Francisco that was established in Los Angeles and celebrates British contributions to California. From April 23 through May 16, BritWeek San Francisco will be a festive community event, supporting foot-traffic with a walking map of participating retailers and businesses. http://britweek.org
British Consul General Julian Evans approached Gladys Perint Palmer to head the fashion subcommittee for BritWeek San Francisco. At a luncheon in Ms. Menkes honor hosted by Dr. Elisa Stephens, president of the University, and Gladys Perint Palmer, Mr. Evans will present Ms. Menkes with a proclamation from Mayor Gavin Newsom's office declaring "May 6, 2010 Suzy Menkes Day in San Francisco."
British designer Keanan Duffty will also be visiting the School of Fashion and presenting a Rebel Fashion panel discussion on Wednesday, May 5. Keanan is the co-author of 'Rebel Rebel: Anti-Style' published by
Rizzoli in September 2009.
Each year, the School of Fashion honors industry leaders who have made an outstanding contribution to the world of fashion and creates opportunities for the honored guests to interact with the students with discussions, classroom visits and an exhibition of student work and portfolios.
From these settings, guests are able to select interns from all areas of study including Fashion Design for Women's Wear, Men's Wear, and Children's Wear; Technical Design; Textile Design; Knitwear Design; Accessory Design; Costume Design; Fashion Illustration; Fashion Journalism; Fashion Merchandising and Visual Merchandising.
Academy of Art University President's Awards for Excellence will be presented to:
Julie Chaiken, Bay Area designer and founder of Chaiken Clothing
Keanan Duffty, designer and author of 'Rebel Rebel: Anti-Style' by Rizzoli, September 2009
Patrik Ervell, winner of the 2007 Ecco Domani Award for best men's wear designer
Ian Hannula and Joe Haller, Bay Area designers and founders of Nice Collective
Carol Lim and Humberto Leon, innovative retailers and founders of Opening Ceremony
Elisa Palomino, women's wear designer and VP of Design at Diane von Fürstenberg
Walter Van Beirendonck, men's wear designer and one of 'The Antwerp Six'
Dirk Van Saene, artist, designer and one of 'The Antwerp Six'
"We are delighted to have this group of distinguished and influential guests join us this year," said Dr. Elisa Stephens.
Honored guests will announce internships at the end of the show. Other internships and awards to be announced include Abercrombie & Fitch, BCBG, SURTEX® designext Student Competition, and the Sister City Scholarship Exchange to study abroad in Paris at Studio Berçot and L'Ecole de la Chambre Syndicale de la Couture Parisienne.