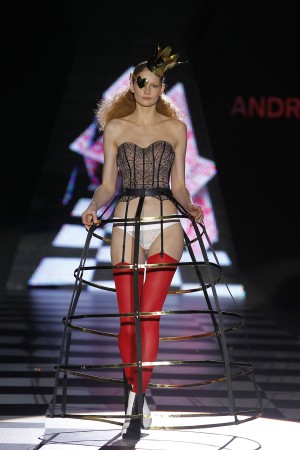 MADRID, Apr 12, 2010 / — For Fall 2010, Andres Sarda proposes an imaginary journey to a world we have dreamt of where we will play with proportions and perceptions to confuse reality. Nothing is what it seems; everything depends on how you look at it. Come in and see. What can you see?
The fashion show was divided into three blocks. It began with an over-sized garden where girls dressed in
colours ranging from green, nude, flesh, mole and sand merge with the setting.
Then, it continued with a surrealistic, very dandy afternoon tea, playing at masculine and feminine with a retro air. Colours: mink, ebony, purple, violet, grey and navy. The fashion show ende with evening wear in black, cayenne and mother-of-pearl.
The fabrics revolve around countless versions of silk: tulle, muslin, organza and satin, worked in honeycomb smocking, pleats and fringes, giving the silhouettes an unreal aura.
Fantasy-back bustiers, knotted suspenders, gathered shorts and demi-sein bras are the most innovative garments in the new collection. Embroidery, done on invisible haute couture tulle, is tattooed on the body, floating as if it had no base. Laces are either extremely light or weighty, there is no middle ground.
Photos courtesy of Cibeles Madrid Fashion Week
Cibeles Madrid Fashion Week Fall 2010