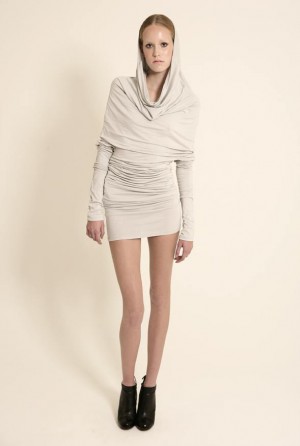 LOS ANGELES, Apr 30, 2010 / — Symbiosis, although generally used as a biology term, is the underlying theme behind Los Angeles-based Costume Dept.'s Autumn/Winter 2010 collection.
For this season, symbiosis is interpreted as the mutual relationship between a woman and her dress. Both exist separately, but when working together, can create the most confident of women.
Versatility and interpretation play important roles in understanding and appreciating the collection. It is a focused presentation of draped jersey in both rayon/spandex and silk, which are constructed into exaggerated columnar shapes that symbiotically form around the body. The colors offered are in muted tones of stone grey and blush pink grounded with a rich and luxurious jet black.
The majority of pieces can be worn in several ways, depending on the wearer's mood. They are an extension of personality and become emblematic of how a person feels and wishes to present themselves.
At first glance the lengthy garments may look intimidating, but it only takes slight interpretation to transform the versatile pieces into moldable and striking looks. Skirts can be worn long, seductively short, high waisted, or even stretched to its extreme to be worn as an elegant column dress.
Tops with an extended collar can be worn off the shoulders, asymmetric, cowled around the neck, or pulled over the head into a Grace Jones-like piece. Also offered are lace and mesh variations of the aforementioned garments that are more dramatic with their transparency, but also work well as layering pieces.
Leggings this season share the same versatility as the other garments, being offered in long and even longer lengths to be worn ruched up the leg, or simply gathered at the bottom.
Photos courtesy of Costume Dept