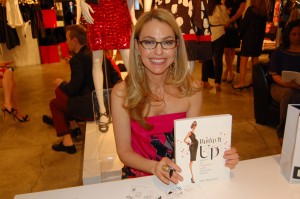 NEW YORK, Apr 17, 2010 / FW/ — Thursday night, DKNY celebrated the launch of "Bump It Up
" the new style bible for moms-to-be by NBC trend reporter and Vogue Style Expert Amy Tara Koch.
A mother of two, Amy Tara Koch wrote the book based on her pregnancy experience through the eyes of a career fashionista. The book teaches expecting moms how to transform their pregnancy into the ultimate style statement.
With author friends Jill Kargman, Bob Morris, Tara Mandy, Samantha Ettus, Lyss Stern and Marisa Marchetto in attendance, the evening showed no signs of competitiveness within the literary world as the famed authors endorsed their stylish friend.
Also in attendance was the new Housewife of New York cast, Jennifer Gilbert, who beamed in her fabulous sequin DKNY top.
Tara Koch's A-list group of friends not only supported her by attending but also contributing to the book. Jill Kargman, Devi Kroell, Alison Brod, Aliza Licht, and Filipa Fino are a few of the hot moms that shared their tips on surviving the incredible bulk of pregnancy without losing their edge.
During the event, DKNY raffled off a $500 gift certificate, a DKNY "Cozy", Donna Karan's Body Perfect shape wear and of course, a copy of "Bump It Up". The winner of the raffle was not pregnant – yet – but attended because her Type-A husband sent her, as a pre-preggo tutorial to avoid schlumpiness.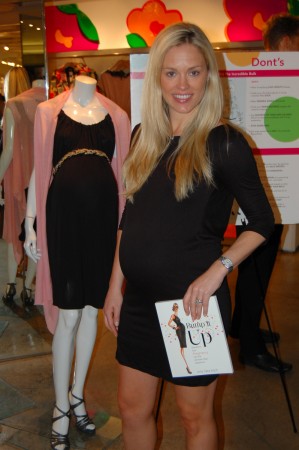 About the Book "Bump It Up
"
Transforming your pregnancy into the ultimate style statement shows moms-to-be how to maintain their fashion edge and triumph over the incredible bulk of pregnancy.
The trick? Strategically investing in multitasking flowy (maternity and non) silhouettes and "bumping them up" (or, in editor parlance, "super accessorizing") with "add-ons" and "wow factor" to transform a handful of basics into dozens of jaw dropping preggo ensembles. Without breaking the bank.
Armed with the basics and a flair for the dramatic, pregnant women can create maximum style with a minimum investment in maternity specific clothing.