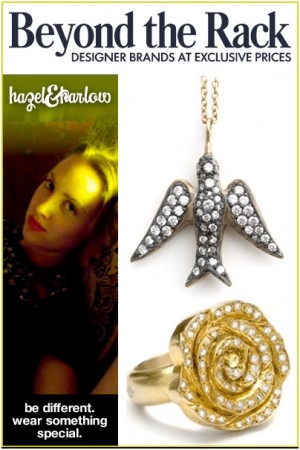 LOS ANGELES, Apr 17, 2010 / FW/ — Hazel & Harlow and its online partner Beyond the Rack, have decided to thank all their fantastically loyal friends and fans with an impressive promotional sweepstakes!
Hazel & Harlow and Beyond the Rack will award one (1) fabulously lucky winner a shopping spree worth $500.00 thats right, you can spend $250.00 on Hazel & Harlow and $250.00 at Beyond the Rack! Gorgeous designer jewelry and accessories can be yours just for entering!
OK, so here's how it works:
From April 15th, 2010 to May 31st, 2010 each visitor to the Hazel & Harlow website may enter and tell Hazel & Harlow why they absolutely love shopping online and their all-time favorite find from their online shopping experience.
Once a contestant has entered his or her information and his or her comments, they will be automatically entered into the sweepstakes. Easy peasy, right?
That's not all, for each entry received, Hazel & Harlow will thank the customer by awarding him or her a discount of $10.00 to be used on Hazel & Harlows site and on Beyond the Rack, no purchase necessary. Just redeem any time you're in the mood to save a bit on your next must-have item!
So come on, who doesn't want an extra $500.00 to spend on designer jewelry, accessories, contemporary fashions and more? We know YOU do!
Enter the sweepstakes here:
http://www.hazelandharlow.com/pages/beyond-the-rack