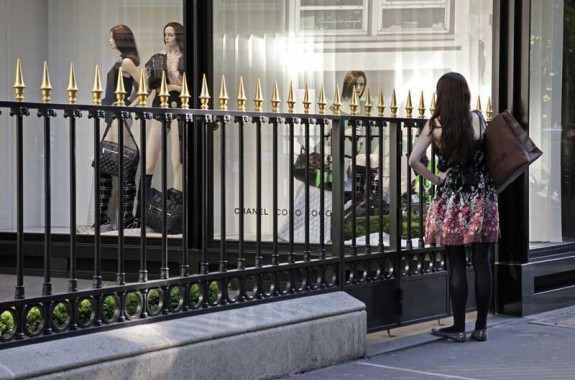 PARIS, Dec 3, 2013/ — To the fashion elite, January means one thing – the very important Paris haute couture season, the pinnacle of fashion. And, to mere mortals like most of us, it is also when the biggest sales are happing in the French capital!
Paris welcomes 29 million visitors each year. The fashion and shopping capital, Paris has 61,232 shops – including 8,500 devoted to clothing and accessories. Its department stores, iconic luxury brands and world-renowned shopping districts make Paris a fabulous place to shop all year round.
To welcome the New Year, the Paris Convention and Visitors Bureau (PCVB) has compiled the Paris Shopping Book with the goal of making it the perfect guide to shopping in Paris.
Written for both visitors and Parisians, this bilingual French-English paperback with a print run of 85,000 copies has a handpicked selection of great shops, cultural venues and places to eat, organized into six itineraries to suit different shopping profiles – Select, Trendy, Creative, Boho-Chic, Ethic-Ethnic and Savvy.
From 2 January 2014 onwards, you can download the Paris Shopping Book 2014 from the website Parisinfo.com, or stop by one of the Bureau's tourist information points to pick up a free copy.
To kick off the event, PCVB has created the 'Shopping by Paris' experience which will enhance the magic of the festive season with a 'good deals' card offered by the PCVB and Premier Tax Free: the Paris City Passport Shopping.
Throughout the month of December, visitors can pick up this special card at any of the Bureau's information points. The card is non-transferable, and valid for three days. It allows the holder to obtain a 10% reduction in 273 well-known Paris stores: a great way to enjoy cut-price Christmas shopping!