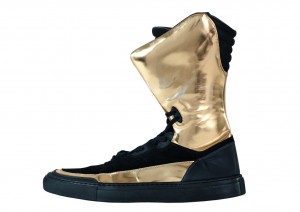 MILAN & DALLAS, Apr 14, 2010 / FW/ — In an environment where being sportive and high fashion are two qualities that a pair of shoes must have, Masataka Matsumura is very successful in creating a footwear line that is highly covetable to its target market.
With the utilitarian shoes as his basis, Masataka Matsumura re-imagined the winter boots by adding open lacing and made the upper portion fur. The combat boots were also reinterpreted and proposed as a two-tone pair of boots.
What are amazing are the boxer shoes that Masataka Matsumura transformed into superhero boots with the use of golden faux leather and purple or blue suede. And of course there were the requisite blucher and walking sports shoes.
[MARI DAVIS]
Photos courtesy of Giuliano Fujiwara