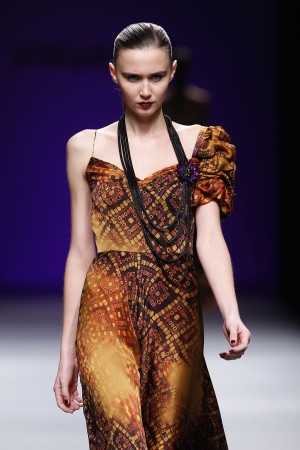 MADRID, Apr 14, 2010 / — The aim of Javier Larrainzar's latest collection is to break with all the ties of the past, mainly aesthetic ones, to offer a more practical, up-to-date and youthful collection.
Nevertheless, this does not mean that he is renouncing the streamlined classicism that has given him such excellent results over the years, but his aim is for his garments to be more cutting edge.
To this end, he has not used as his basis any specific aesthetic trend or any pertaining to fine arts in particular, but he has simply taken as his reference any women who in this or other eras have succeeded in being avant-garde, sophisticated and smart at the same time.
His main source of inspiration is the woman of today, a strong woman who is not afraid of defining herself by the way she dresses.
Larrainzar is willing to leave the past behind him and is eager to design a delicious future with more affordable luxury which is, moreover, the direction that should be taken owing to recent social events. Luxury yes, but in keeping with the new times.
Photos courtesy of Cibeles Madrid Fashion Week
Cibeles Madrid Fashion Week Fall 2010