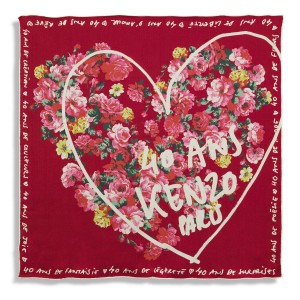 PARIS & DALLAS, Apr 14, 2010 / FW/ — 1970… to the geeks of Silicon Valley it is the beginning of the Unix epoch time; for the jet set, this was the year the "jumbo jet" was born; and to fashionistas, 1970 is the year that the House of Kenzo opened in the Galerie Vivienne, nearby the Palais Royale in Paris.
Japanese designer Kenzo Takada quickly became the harbinger of 1970s fashion, introducing his unique vision of culling ethnic elements from different cultures and putting them together to form a cohesive statement while avoiding the cliché of "east meets west."
Appropriately, the designer became known by just his first name; like royalty, there was no need for a last name. To the fashion set, there is only one Kenzo and his maison is at Galerie Vivienne, (the original boutique still there up to today, updated of course.)
In 1999, Kenzo Takada retired after 30 years in fashion; the House continues… In 2003, Antonio Marras became the Artistic Director of Kenzo. And a new love affair began as Kenzo fans found a captain to steer them in the ocean called fashion.
In fact, during one season, Antonio Marras had an ocean liner as the theme wherein the "fashion" is carried from shore to shore but they also pick up new influences along the way.
2010 rolls around… Kenzo celebrates 40 years. To commemorate the event, Antonio Marras designed a scarf proclaiming the milestone.
Available in four colors, white, black, aqua and red background, the flowers shaped like a heart stand out. And like a schoolboy proclaiming his love, Antonio Marras drew a heart and said "40 Ans Kenzo Paris".
[MARI DAVIS]
Photos courtesy of Kenzo