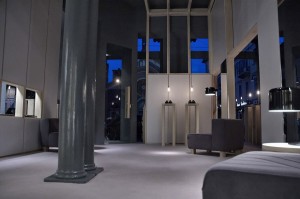 MILAN, Apr 15, 2010 / FW/ — Yesterday, at Via Ponte Vetero 19, Sergio Rossi and Wallpaper* opened the Sergio Rossi Uomo pop-up store which also marked the debut of "Men's Footwear World Tour".
Opened in conjunction with Milan's Salone del Mobile 2010, the temporary store is devoted to men's shoes and dedicated to the Sergio Rossi himself, the founder of the brand, – an independent man, free thinker, seducer and more importantly, a man who is constantly engaged in a voyage of discovery.
It's very first pop-up store, the temporary Sergio Rossi was designed by young Italian architect, Antonino Cardillo. Drawaing inspiration from the architectural style of Gio Ponti and the Tower of Velasca BBPR, Cardillo created a temporary installation in an enclosed permanent building.
"Antonino Cardillo is one of the most significant architects of our time. Combining his talents with the modern interpretation of classic shoe offers Francesco Russo gives a fantastic shopping experience. It 'an exciting and meaningful collaboration for Wallpaper * and a shop must see," says Tony Chambers, Director of Wallpaper *.
"Our passion is to combine the tradition of Italian craftsmanship male shoe with a contemporary, sophisticated style playing with codes. This ephemeral boutique is the perfect translation and demonstration of our commitment to customers," commented Francesco Russo, creative director for Sergio Rossi.