PARIS, Apr 17, 2010 / FW/ — In the heart of Berlin lies MYKITA HOUS, where a constant search for intelligent technical solutions is the guiding principle. The creative use of modern materials and a wealth of experience in eyewear design are the defining factors behind the spirit of MYKITA's collections.
All frames are handmade at Mykita's own workshop in Berlin. From here, the frames are distributed throughout the world to high-end opticians, fashion shops and department stores.
MYKITA's COLLECTION NO 1 is based around a highly innovative and functional patented snap-hinge design, comprising simple plug connections, which make traditional soldered joints and screws redundant.
Each part of the frame is cut out of 0.5 mm gauge flat stainless steel sheet, and then folded into a full-bodied format. As well as being incredibly light and comfortable to wear, the frames can be easily adjusted to each wearer's particular features. A frame for every face.
COLLECTION NO 1: DECADES
Quoting iconic styles from the 20th century, a huge pool of inspiration for shapes and styles, DECADES re-interprets timeless classics in a modern way. A well selected assortment of models are inspired by typical vintage shapes from the 50s, 60s, 70s and 80s but as a result of the modern methods used in their manufacture they are firmly rooted in the present.
COLLECTION NO 1: LITE
The LITE series sees MYKITA introducing its lightest metal frame concept to date. These glasses have a newly developed, simplified screwless hinge system meaning that each frame is solely composed of three pieces.
A new feature is a very thin temple with a silicone-covered tip that can be bent into shape to fit snugly behind the ear. Lenses are easy to mount with the help of a thread. The LITE COLLECTION's low-key design is ideal for everyday wear.
COLLECTION NO 1: SUN
The metal sunglasses collection ranges from classically elegant to more avant-garde designs. Light as a feather, they are very easy and comfortable to wear.
A wide spectrum of unisex aviator styles, with best selling model ROLF is completed with more explicitly feminine styles like ISABELLA or GRETA. All are available with a variety of different lens options, fitting each frame colour and style. Frames come in various metal surfaces, completed with colourful lacquer colours.
COLLECTION NO 2
MYKITA presents another patented and resilient screw-less hinge system – the result of a new technique of metal injection moulding. Putting your glasses on is now extremely comfortable and easy due to the practical flex-hinge effect.
This is visible technology with a refined style – the quintessence of MYKITA's styling and branding philosophy. The translucent new colours of this collection were inspired by luminous gemstones.
COLLECTION NO 2: SUN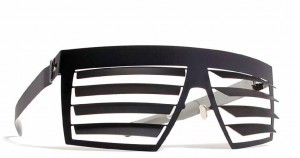 MYKITA's acetate sunglasses are a cool combination of opaque and translucent colours and bold styling. With their industrial style and the newly developed inset hinges, classical sunglass shapes become both modern and sophisticated. Equipped with gradient, solid or polarised lenses in various colours, these shades protect and make a statement at the same time.
LIMITED COLLECTION
Limited editions such as the MYKITA FLASH COLLECTION or collaborations with various fashion designers as well as brands are launched four times each year to coincide with the Paris fashion week calendar.
For AW 2009 MYKITA worked with German avant-garde designer Bernhard Willhelm on both a men's and women's collection. For SS 2010 sunglasses were created in collaboration with Romain Kremer, and with London-based designer Marios Schwab.
Furthermore, MYKITA FLASH presents two new unisex frames: WINSTON and RODNEY.