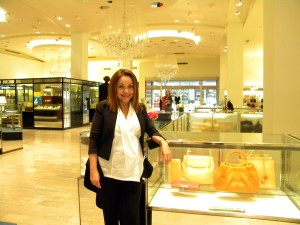 DALLAS, Apr 15, 2010 / FW/ — On her visit to Dallas, the Big D welcomed famed accessories designer Nancy Gonzalez Texas style… at her trunk show Tuesday night, her new handbag collection sold very well and word of mouth acclaim went faster than you can say social networking that the purses were literally flying off the shelves the next day, the collection's official launch at Neiman Marcus Downtown.
Needless to say, when 1:00 PM, my appointment to interview the designer rolled around, and I asked Claudia Freeman, Accessories Dept Manager at Neiman Marcus Downtown if I can take some photos of the bags to go with the article, she told me that half the collection had sold out so I will have to choose from what is on the sales floor and not from the catalog.
Being both from Dallas, Claudia and I smiled at each other, understanding how the ladies around here react to great design and quality products. Dallas might not be a fashion capital (it's first and foremost a technology city), but the ladies here are well dressed, thanks mostly to Neiman Marcus which had been wardrobing Dallas for the past 100 years.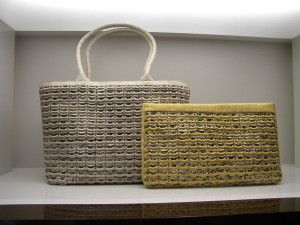 Looking at the bags with a fashion editor's eyes, and then looking at them through the lens of a camera, this Nancy Gonzalez collection is a standout compared even to her own previous collections.
This season, the Columbian-born designer decided to bring bright colors to life – sunshine yellow, azure blue and brilliant red. She also introduced a new texture, the scallops, a traditional weave that she reinvented and re-imagined for the exotic skins that she loves working with.
"I find working with crocodile, python and snakeskin challenging," said Nancy Gonzalez when I asked her what compels her to work almost exclusively with exotic skins.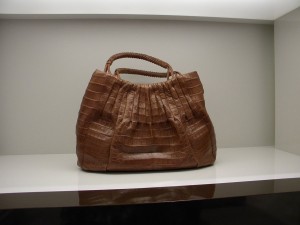 "Because these skins already comes with a natural texture and of course imperfections that was given to it by nature, it always great to discover or create a new shape that will enhance their natural qualities, even make the innate imperfections beautiful." Ms. Gonzalez added.
"What about seasons; like this Spring / Summer collection, what was your inspiration?" I asked.
"I don't usually think of my collections as seasonal," answered the designer. "New collections are introduced regularly and they usually coincide with the seasons, but I think of my bags and purses as timeless. Something you purchased a year ago can still be mixed and matched with a new edition."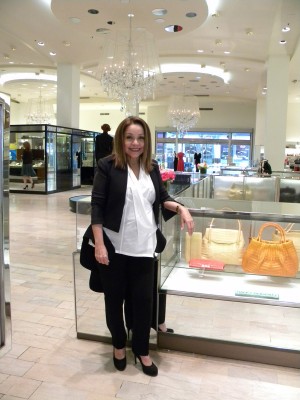 Then Nancy Gonzalez related to me how a woman who had been a customer for years went on a month-long vacation bringing only two of her purses – a clutch and a tote bag. The clutch worked as a wallet and of course as a clutch for evening jaunts and the tote came in handy during shopping or lunch appointments.
"That's exactly how I design my collection," said Nancy Gonzalez. "I want the ladies to create their own style and exercise their individuality on how they will use the bags, the purses, the clutches and everything else. There is no rule; they make their own rules."
"These styles are different from what I saw at Bergdorf Goodman and at Saks Fifth Avenue," I said. "In fact, I have never seen these styles before at all."
"I like giving my retailers something different, something unique for their stores," Ms. Gonzalez explained with a smile. "I love luxury, I respect it, but most of all, I am a customer, too. And as a customer, I want to feel special, hence I treat the ladies the way I want to be treated myself – especial."
With that, I realized why the bags were flying off the shelves, why the ladies seem not to get enough of Nancy Gonzalez's creations. Her design philosophy comes from the heart and that feeling is translated into her collections.
[MARI DAVIS]
Photos by Mari Davis